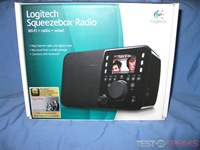 If you are still doing some holiday shopping and looking for something for the tech/music lover in your life, then today's product may be of interest. Logitech's latest addition to the Squeezebox family is the Squeezebox Radio. It is built smaller than the Squeezebox Boom and is less expensive, yet packs a lot of exciting features in a compact space.
Although it is not a stereo device, it still sounds pretty good with its ¾-inch high-definition, soft-dome tweeter and 3-inch high-power, long-throw woofer. Logitech also added a 2.4-inch color display, which is absent on the Squeezebox Boom along with six preset buttons that allow one touch access to favorite radio stations and/or playlists
For the social networking types, the Squeezebox Radio features Facebook connectivity allowing the user to check Status Updates or send music recommendations. Besides these new features, the Squeezebox Radio has all the other capabilities of prior Squeezebox devices including network access to your home music connection, Internet Radio and Music services like Pandora, Rhapsody, Slacker and SIRIUS.
The Squeezebox Radio comes in a cardboard box with the usual Logitech branding. On the front is a large picture of the device while on the back are some product highlights, and the bottom of the box lists the specs and system requirements. Inside the package we find the Squeezebox Radio Wi-Fi music player, an AC adapter, 3.5 mm Line In cord for connecting MP3 players and User Documentation.
The Squeezebox Radio is composed of a piano black finish and measures 5.12 inches (130 mm) by 8.66 inches (220 mm) by 5.04 inches (128 mm). It is a sexy looking device with its glossy black surface. Unfortunately this piano black finish attracts fingerprints like flies to honey. Keep a cleansing cloth near by at all times. Logitech also makes a red version that seems less stylish and would seem to stand out a lot more than its all black brethren.
The front of the unit is broken into two halves – on the right are the controls including the power, volume and playback controls. A large push button Knob is used to navigate the Squeezebox Radio's menus and just above it is the 2.4-inch 24-bit color LCD. Adjacent to the screen on each side of the display are three Preset Buttons.
The left half of the Squeezebox Radio is covered by a grill which protects a ¾-inch high-definition, soft-dome tweeter and 3-inch high-power, long-throw woofer.
On the right side of the Squeezebox Radio is a 3.5mm headphone jack. On the back right corner of the unit we find a 3.5mm Line-In and Ethernet jacks along with the power connector.
Out of the box, the Squeezebox can playback MP3, FLAC, WAV, AIFF, WMA, Ogg Vorbis, AAC, Apple Lossless audio. Other formats can be played via transcoding performed on the server PC. Built into the Squeezebox Radio is an 802.11G antenna which supports WPA Personal, WPA2-AES, and 64/128-bit WEP encryption. The Ethernet connection is a 10/100 Mbps version, sorry no gigabit connection, but you really don't need it for streaming audio.
Logitech provides an ambient light sensor in the Squeezebox Radio which adjusts the brightness according to the environment. The six preset buttons allow one touch access to favorite playlists and radio stations.
Specifications:
Basics
What's included
-Squeezebox Radio Wi-Fi music player
-Power adaptor with removable plug
-User documentation
-Line-in cord for most iPod and other MP3 players with standard 3.5 mm jack
Technical Specifications
Speakers and amplifier
-¾-inch high-definition, soft-dome tweeter and 3-inch high-power, long-throw woofer
-Bi-amplified class D design with digital electronic crossover
-3.5 mm stereo headphone jack
General
-2.4-inch 24-bit color LCD
-Ambient light sensor to adjust display brightness according to environment
-6 preset buttons allow one touch access to favorite radio stations and playlists
-Alarm clock with 7 days of settings
-Line-in via 3.5 mm stereo jack
Additional options available
-Rechargeable battery pack
-Infrared remote
Part of the Squeezebox family
-Works with all Squeezebox products for whole home audio
-Can be synchronized with any Squeezebox or Transporter
-Works with Squeezebox Controller
Audio
Audio formats
-MP3, FLAC, WAV, AIFF, WMA, Ogg Vorbis, AAC, Apple Lossless
-Other formats supported through transcoding
-Some formats may require additional software installation
Internet radio
-Support for MP3, Ogg Vorbis, AAC and WMA formatted Internet radio streams
Network
Wireless interface
-True 802.11g wireless networking
-One-touch setup (with compatible WPS-supporting routers)
-Support WPA Personal, WPA2-AES, and 64/128-bit WEP encryption
Ethernet interface
-Connects to any 10/100 Mbps Ethernet network (with Auto MDX)
Physical
Dimensions (H x W x D):
-5.12 inches (130 mm) by 8.66 inches (220 mm) by 5.04 inches (128 mm)

Setting up the Squeezebox Radio involves plugging the unit into an AC outlet, then connecting the device to the internet via a wired or wireless connection. When the radio fires up for the first time, it will detect a wireless access point if not plugged into the LAN.
Follow the onscreen instructions to finish the Squeezebox Radio setup. Entering information using the onscreen keyboard and knob button can be cumbersome. Thankfully this is a one time setup as Logitech allows the Squeezebox Radio to store and save passwords even when the device is unplugged.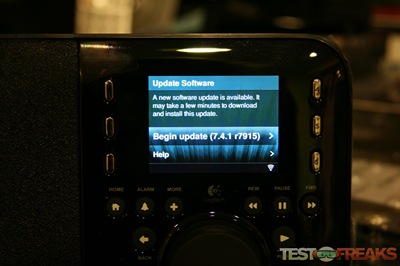 If you don't already have a mysqueezebox account then the Squeezebox Radio will help you set one up. Once this is finished you can download and install the Squeezebox Server software which runs on your home computer (Linux, OS X or Windows) and allows the Squeezebox Radio or any other Squeezebox to playback your music library streams. A mysqueezebox account allows the user to manager their Squeezebox player settings, install and manage Apps, and allows access to many online services such as Odeo, Rhapsody, Shoutcast, Sirius, and Pandora.
Depending on the size of your library the Server software will initially scan your music.
Optimally for streaming music, the LAN connection is preferable over Wi-Fi as uncompressed audio such as FLAC and WAV uses more bandwidth than its compressed brethren (mp3, AAC, and WMA). For slower wireless connection, there is a buffer time adjustment option in the setting menu.
Music and Audio Quality:
Navigating the Squeezebox Radio with the control knob is simple and intuitive. The menu structure is well organized and novice users should pick up the scheme in a relatively short time. The Home and Back buttons help traverse this menu system. From the Squeezebox Radio your music library can be viewed and played via artist, album, genre, year and new music added. One drawback of not including a remote is with large music libraries using the knob to scroll the collection can be tedious. Hopefully Logitech will release an official iPhone app for their Squeezebox devices similar to what Sonos did with their networked music system. There are paid third party remotes for the Squeezebox system, but a free version from Logitech seems like a better idea.
The beauty of the Squeezebox devices is the numerous sources for music and other forms of audio. With the Squeezebox Radio you can listen to your music library or check out several streaming services including Rhapsody, Slacker, Last.fm and Pandora. My favorite feature is the ability to listen to Sirius radio. In conjunction with the Squeezebox Radio's preset buttons my favorite Sirius stations are easily accessible.
Internet radio offers thousands of station choices in numerous categories including Staff Picks, Local, Music, Sports, Talk, and World. Each of these categories is further broken down into additional choice options. If you find a station you enjoy and don't want to hunt for it can be assigned as a favorite or set as one of the six physical preset buttons. The Internet Radio feature is "always on" when the Squeezebox Radio is connected to mysqueezebox.com even when your computer is off.
Of course the big question is how does the Squeezebox Radio sound? First it is important to remember that the Squeezebox Radio is a mono device. For the audiophile this may be a deal breaker. Luckily Logitech allows the device to connect to external speaker or headphones via the 3.5mm headphone jack. Despite playing back in mono, the built in speaker provides a rich sound in smaller room and does not get distorted even at high volumes.
Apps:
Besides music, the Squeezebox Radio allows the user to view their Facebook accounts, check out their Flickr pictures and it also works as an alarm clock. The clock is runs off internet time server, so it should always be accurate. There are numerous Alarm sounds for those tired of the buzzer style wake up call from their old nightstand clocks. You can wake up to music, nature sounds such as rainstorms and waterfalls or other sound effects such as ambulance, tea kettle or motorcycle. These are silly options but still something unique and different.
When powered off the Squeezebox Radio can display the time or act as a tiny digital photo viewer pulling pictures from Flickr or your Facebook account. The display is sharp and with a properly tagged music library will show the album cover when playing songs from the home library.
In the past installing Apps or plugins as they were called in older versions of the Squeezebox software was a slightly arduous process. Now App installation is a breeze to setup. Apps can be installed and setup from either the Squeezebox Radio or on the Squeezebox Server software. Personally I prefer doing it on the server end as dealing with the onscreen keyboard and knob is a bit of a nuisance. Some Apps require additional subscriptions or accounts to be set up including Sirius and Pandora to name a couple. Once these accounts are set up they can be easily accessed by navigating the Squeezebox Radio menu.
Conclusion:
The Squeezebox platform was created by a company called Slim Devices which was later acquired by Logitech. Thankfully Logitech did not try and "reinvent the wheel" and kept many of the developers and built up the platform based on its strengths. The Squeezebox Radio is the next step in the evolution of their network music player.
I own both an original Squeezebox and my criticism of the Squeezebox line in the past has been related to the difficulty of installing plugins (Apps) on the server software now known as SqueezeBox Server. Logitech has addressed this issue by creating a more user friendly interface within the SqueezeBox Server software and adding an easy to use "App Store"" for installing these plugins.
The Squeezebox Radio is a portable slim unit that sounds rich and is ideal for almost any music/audio listener. Love podcasts, check, love Sirius, check, want to listen to your music library anywhere in the home, check. The audiophile may not appreciate the mono speaker but that can be mitigated via the use if headphones if so desired. If you are new to the Squeezebox line or have other models, this unit is a great addition.
Pros:
+Simple to setup
+Sharp Color display
+Numerous online music services
+Large selection of Internet radio options
+Compact and portable
Cons:
-Mono
-Lack of included remote
-Does not include rechargeable batteries
-Uses 802.11G for wireless
| | |
| --- | --- |
| Grades: | |
| Overall | |
| Design | |
| Performance | |
This product was given to technogog for review by the company for review purposes only, and is not considered by us as payment for the review, we do not, and never will, accept payment from companies to review their products. To learn more about our review policy please visit this page HERE.