In the words of John Maeda, "simplicity is about subtracting the obvious and adding the meaningful."
For many, the "meaningful" is a pet companion.
If you're a dog parent, you know how much meaning your little fur-ball adds to your life. The question is, how much meaning are you adding to their life?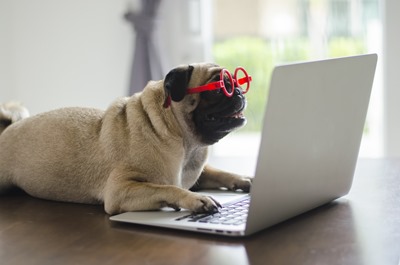 You're at least giving them love and attention, which is enough for this easy-to-please species. But why not go the extra mile?
Here's new dog technology that will improve your relationship with your dog in more ways than one.
Benefits of Having a Dog
They're fluffy, they're warm, and they're adorable. We all know this much.
Even better, research shows there are more benefits to having a pet companion:
Lower blood pressure
Lower cholesterol
Less likely to have health issues
Stronger immune system
Help with chronic and mental illness
This goes for any dog owner and doesn't include the benefits the 500,000 service dogs in the U.S. provide.
Your dog enhances your life physically and emotionally. Here are a few inventions that can help you return the favor.
Health
First and foremost, let's look at technology to better your doggo's physical well-being.
Teeth
Dental disorders are the most common health issue that canines face. Periodontal disease affects 85% of dogs above the age of three.
In addition to brushing their teeth a few times a week and bringing them to the vet for annual cleaning, you can combine hygiene with play.
There are tons of new toys coming to the market that get two birds with one stone. Kong Dental Stick is one of them, although there are many like it.
This is a chew toy that you can put treats in so your dog can have fun while upkeeping dental health. The technology includes patented Denta-Ridges that serve to clean gums and teeth when chewed on.
If your dog's jaws destroy like that of an alligator, you can find something a little more hardy. Find a durable toy like Nylabone Durables, as they're harder to destroy. They feature similar ridges to decrease tartar build-up.
Hair
We've filed hair under "health", as dogs shed to keep their temperature down. In the process, your home becomes littered with hairballs from top to bottom.
This may bother you if you like things clean or if you have allergies. To help, you can get a grooming tool such as Dyson Groom. It thoroughly removes hair that's loose and soon to end up on your carpet.
It's essentially a vacuum-boosted brush that will capture the hair before it falls all about your house.
It's a win-win situation: your house is cleaner and your dog is less hot.
CBD
The CBD (cannabidiol) craze doesn't stop with humans. That's because dogs also have an endocannabinoid system, meaning that CBD supplements may improve their life.
CBD is a compound that comes from the plant Cannabis Sativa L., also known as hemp. There are no psychoactive properties of CBD, so you don't need to worry about your pup getting high. Rather, ingesting CBD allows your dog's own cannabinoid system to function more efficiently.
Here are some symptoms that CBD may relieve for your dog:
Allergies
Anxiety
Appetite loss and digestive problems (especially helpful if your dog has dental issues)
Arthritis and joint pain
Cancer and tumors
Skin problems
Seizures, epilepsy
Inflammation
Glaucoma
Spasms
This list resembles the benefits that CBD has for humans as well, even though it isn't extensive. As research continues, it's likely that it may help more ailments.
You can find the best CBD for dogs in the form of oil, treats, chews, capsules, and topical balm.
Water and Food
Like most life on earth, what your pup ingests directly links to physical health. Consider filtered water and natural, organic products. The technology below focuses on consistency with water and food, which is equally important.
Water
Does your dog like to hang outside on hot summer days? If so, we're sure you leave out a water bowl on the porch for them. This bowl probably gets hot and collects bugs.
A new device by Contech called Waterdog Automatic Drinking Fountain can solve this problem. It's smart sonar sensing technology that's essentially motion-activated. When your dog trods up, the water spigot turns on and off if your dog walks up to it.
This will keep them happy and is a novel contraption to add to your yard.
If you need to water your pup on the go, consider getting a two-in-one water bottle like a portable travel dog bottle. It typically swivels, allowing you to have a bowl your dog can drink from. Plus, there's often a storage compartment on the bottom for food or treats.
Food
There are studies suggesting that eating at the same time every day improves health. It's safe to assume it's the same with pets.
However, it's difficult to feed ourselves at the same times every day, nonetheless our canine companions.
Thanks to new innovations, you can hand the responsibility of consistency over to technology. There are many automatic pet feeders on the market. Some operate based on a timer you set, others allow you to feed your pet through your smartphone. Additionally, some work through a gravity sensor.
This may keep your dog from experiencing the Pavlov effect every time you walk near their food bowl. Unless, of course, they're the type to jump at the bit for a bite of anything.
Gear
It's better to take precautions than to suffer the consequences of accidents. Here's a look at some tech to help keep your furry friend safe.
Collars
A collar can be so much more than it has been in the past. Many collars nowadays have GPS tracking capabilities, meaning you can easily find your pup should they stray away from home. 1 in 3 pets get lost at some point in their lifetime, so it's a worthy investment.
If you really want to step up the game, check out Scollars or similar products. It's essentially a Fitbit for a dog, meaning it tracks activity, temperature, weight loss, and other health data.
In addition to health functions, it has a built-in GPS as well as RF (radio frequency) sensors. If you get RF-enabled pet doors, your dog can go outside to do their business by themselves — without you having to get off of the couch.
These are fancy devices, albeit, but they do have great value. You can opt for something more simple, such as a light up or glow-in-the-dark collar. Then your pup won't be a dud-in-the-dark on your nighttime walks.
Leashes
You may opt for a harness over a leash, but that's up to you. It all depends on what activities you'll do and how well-behaved your dog is.
The company Pack Leashes has function in mind with their dog wear. Their leashes are climbing ropes and carabiners, making them dual purpose for outdoor adventures. Plus, they donate a pound of dog food per item bought.
Or, if you have two little ones, check out the Wigzi Tangle Free Dual Dog Leash. Its a simple design including a swivel so that the two leashes may never cross each other and become tangled. A perfect example of how simple technology (i.e. a swivel) can be re-worked into new innovations.
Safety
One of the ways you can enhance your dog's life is by prolonging it. This means health products and contact information on the collar.
Also, it means taking precautions against potential accidents. If you have a swimming pool in your backyard, this could be the biggest hazard your dog faces.
Even if your dog is the Michael Phelps of dogs, accidents can happen. Consider getting a device such as the Safety Turtle 2.0 Pool Alarm Pet Kit or something similar. It's a technology that attaches to your dog's collar and alerts you when it gets wet.
Rather than monitoring the pool itself, the Safety Turtle monitors your dog's activity.
Dog Technology For Fun
Not everything is about functionality. If you have a little extra to spend, spend it on fun for you and your dog.
Communication
A new innovation in the dog realm includes webcams such as PetChatz or Petzi. Webcams aren't new, but using them to interact with your dog is.
These devices often feature HD images and high-quality audio, allowing you to communicate with your dog as if you were there. They typically are app-controlled and wifi-connected, allowing you to say hi and offer your pup treats.
If you've always wondered what your dog is thinking, you can get a keychain that interprets their thoughts. The product Puppy Tweets does this though motion technology. When movements or barks occur, the device sends messages via WiFi to your device and tweets silly phrases.
Fetch
Many people get tired before their dogs do when playing fetch.
iFetch and similar devices allow the game to never end. Running on an AC adapter or 6 C-cell batteries, this device is an automatic ball launcher. You can choose the distance up to 30 feet.
Stay Up to Date
There are always new dog technologies coming out. While it's cool to keep up with the trends and find products that make your life easier, don't forget about the importance of physical and emotional connection.
Continue to research innovations to think of new and better ways to utilize technology.