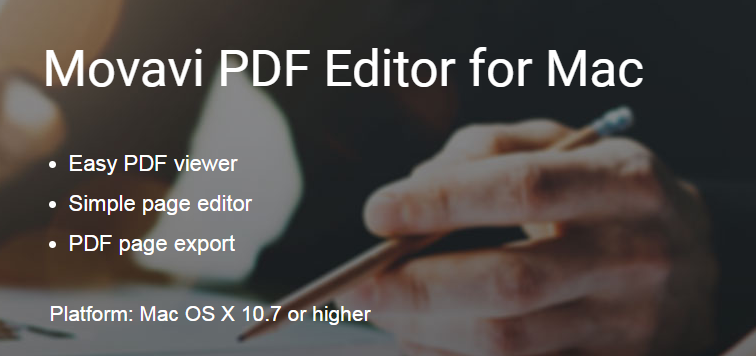 While viewing PDF files is easy and there are many apps that will let you do so, editing or compiling PDF files of your own can be much more difficult. To do that you'll first need an editor that has the features you require, but finding one is easier said than done.
Many PDF viewers and basic editors are light on features, and offer limited options to edit PDF files. On the other hand more professional editors that have a better selection of features are often expensive, to say the least. The good news is that you could try Movavi PDF Editor for Mac instead, as it occupies a nice middle ground between most other options.
It is possible to open and view both PDF files as well as images in PNG and JPG in Movavi PDF Editor for Mac. Each file that you open will be displayed in its own tab, and so you can switch between files while editing very easily.
The features in Movavi PDF Editor for Mac are perfect for editing and compiling PDF files. It will let you add pages to your PDF files, rotate them so that they are oriented correctly, and arrange them in the order that you want. That can be useful as it will let you compile a PDF file from scans, or even by exporting files from Word, AutoCAD, Excel, and other apps as PDFs, then adding them to your PDF file. Another option for editing PDF files is called Sodapdf, which easily allows you to convert PDF files to Word documents.
If you want you could add images to your PDF files as well, and resize then position them according to your requirements. The same goes for signatures or stamps, both of which you can easily include in PDF documents using Movavi PDF Editor for Mac.
Aside from compiling PDF files of your own, you could split existing PDF files into parts, extract individual pages, or even save images as PDFs or PDF pages as images. In short Movavi PDF Editor for Mac will give you the versatility that you need to spin off content from your PDF files in case you want to re-use it for other purposes.
As you can see the features in Movavi PDF Editor for Mac exceed what you may expect from a basic PDF editor. That is a big part of its appeal, as it can act as a useful tool to help you manage PDF files and alter them when necessary. Because of how easy it is to use you don't need any prior experience editing PDF files to start applying its features, and you should be able to figure out how each one works within a couple of minutes at most.