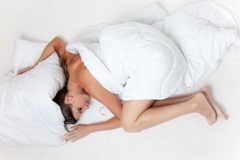 On average, we spend one-third of our life in bed, and it is for that one-third time that keeps us active during the other two-thirds. To ensure that you get quality sleep, it is smart to invest in quality bedding such as Boho bedding or Egyptian bedding. Most people pay attention to the mattress but skip thinking about the effect that bed sheets or pillow covers can have.
5 Things to look for in your bed sheets
There are many criteria that classify how comfortable your bed sheets are. It is not only about the material but also many other factors that play in.
1. Fiber Content
The fiber material is an essential thing to look for in your bed sheet. A pure cotton bed sheet is always an option as it is soft, comfortable, and easy on the budget. If you want to try something a little more premium, go for Extra-Long Staple Cotton. Polyester/ Cotton blends are also quite popular because of their durability and resistance to wrinkling. Pick your preference and shop accordingly.
2. Fitting your Mattress
Even though the length and width of the bedsheet are standard for the mattress, such as queen size or king size, you need to measure the height of your mattress. For fitted sheets, the measurements need to be precise, and you also need to keep in mind the shrinkage factor after laundering.
3. Weave
The most common weaves for bed sheets are sateen and percale. Percale is when the fabric is woven closely and tightly to give a firm and smooth texture, whereas sateen, on the other hand, has a higher thread count, and it feels silky. Even though everyone has different preferences, most people tend to choose sateen.
4. Thread Count
Thread count is the number of threads per square inch. A high thread count results in a softer sheet. Usually, the thread count for bed sheets ranges between 200 and 800. However, in some high-quality sheets, it may surpass even 1000. Many manufacturing techniques help the brands to increase the thread count while not improving the quality. 200+ is a good count but if you are looking for premium comfort, go for 500+ thread count.
5. Design
Once you have sorted out your preferences about what you want in your bed, the next step is to pick the design that will suit your room. Along with comfort, it also matters how it looks in your bedroom. Visuals also contribute to comfort. If your bed looks like it's blending in perfectly and seems comfortable, it will feel comfortable. So pick a sheet that goes perfectly with your bedroom.
Summary
These five points determine the quality of sleep you will be getting every night. Price is also an important factor which you have to look for. A tight budget can drag the browsing for longer, but there are quality bed sheets available in almost any range. So next time when you are out shopping for new bed sheets, keep these in mind.