The Holidays, while bringing a lot of joy and happiness to people, can also bring with it a lot of stress.  Between the gift buying, the get togethers, the dinners, the visits, the trips, and more, it can become hectic. But with modern information tools you can find help in getting all the tasks behind you to ensure a pleasant holiday experience.  One powerful set of tools in particular is widely available and free to all, yet fits the holiday needs quite well. As you may have guessed from the title, that set of tools is Google Gmail and Google Docs.
So, how exactly can free email, a calendar, and a document suite help with your holiday? Well, the answer can be wide and varying, but we will touch on a few of the ways that we have found handy.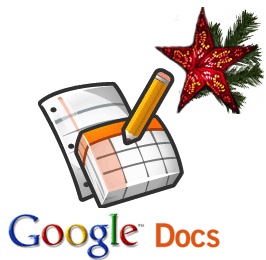 Let's make a date
So, how do you get all of the friends and members of the family together? How do you  get their busy lives to be in sync with your busy life? One thing that may help is setting up a calendar in Google Calendar.  You can share it with everyone, and let them know through email.  From there they can verify the dates (and times!) in a live, updated , central and agreed upon repository.  Dinner time changes from 2:30 to 4:30?  Uncle Ned can keep up with the change, and he can meet his bookie before dinner.
Keeping a list and checking it twice
You have a list of people to buy for, and you don't want to go over your budget.  Google Docs to the rescue – set up a spreadsheet to track not only who you have to buy for, but also keep track of what you have spent and how much you are still going to need.
Now you won't only blow all of your Christmas budget, you will also not leave anyone out.  If you have an iPhone or other mobile device with a supported browser, you get the added benefit of having your list with you without worrying about forgetting it at home.
If you want to make it easy, and you feel particularly generous, set up a shared spreadsheet with a list of names. Tell everyone to fill in their own gift idea, but be sure to pick something within a given limit.
What's on the menu?
Want to share those perfect holiday recipes with everyone?  Consider using a shared Google Word Doc.  You can have many pages of delightful cuisine instructions, and each person can add their own or add small notes to other entries to tweak it to perfection.
Perhaps everyone decides to bring a dish and make it a potluck styled Christmas dinner.  You can use a shared spreadsheet as a list to keep everything straight and as a handy reminder for everyone to check later.  Follow it up with a Google Calendar entry with reminder a few days before the dinner and no one will get caught with a sudden rush to cook.
Another way to set up a potluck dinner  is to use a shared spreadsheet to let everyone fill in what they are bringing.  A quick look at the online spreadsheet shows that George and Mabel are bringing the potato salad, so maybe that old family recipe for bread pudding would be perfect for the occasion.
All I want for Christmas is…
So, everyone decided to exchange names.  Trouble is, you can't remember if you have Aunt Margaret or cousin Tommy as your lucky recipient.  Tommy may not appreciate the nuances of a fine quality shawl, and Aunt Margaret may not (or may!) be into hard rock.  No worries – just jump online and check the family gift exchange spreadsheet on google docs.  Now  you know that you are actually buying for Uncle Albert, and that probably means tie shopping again this year.
A shared word doc may be helpful with the dreaded task of what to get the parents, especially if you are getting a joint gift.  Start a page with some ideas, and share it among the kids.  They can expand it with their ideas, and make comments as to why this may or may not work.  By using a shared document it eliminates the email trail, and you can be sure that you have the latest information by looking in one place.
Even if you are not getting joint gifts, it might still be nice to know what everyone is getting them. In this way you can choose a gift that compliments the others, adding to a bigger overall present for the parents. If well-to-do Billy Jean is giving them a vacation to the beach as a gift, then come to the rescue and buy them each matching sun glasses.  See – you can be thoughtful on a budget.
What if everyone wants to get something for someone, but no one has an idea as to what to get anyone? No problem – set up a shared doc and make a list of everyone's name, along with a price limit at the top in big bold letters. Let each person suggest several things of gift ideas that they would like by their name, but keep it within the listed price limit (no new cars, folks).  Now everybody has at least an idea of what to get everyone. You now have a central up-to-date Christmas wish list.
I'll see you when I get there
A simple shared spreadsheet is a great way to let everyone know that they are coming, and they can even fill in when they are getting there. This way you can take a quick look at the list and decide for yourself when would be the best time to plan on making your appearance.
The list also serves as a great way to check up on everyone before you are concerned that they are late. Cousin Nancy may have changed her expected arrival time at the last minute due to some office work she needed to finish up before the holiday break, so there is no need to panic.
Over the river and through the woods
It is simple to set up a shared Google Doc for directions to the old homestead for anyone that may be from out of town. The centralized location makes a great place to post any information about detours or road problems as they come up during the holiday season. You can give them the best way around traffic, and share with them any great places to check out along the way.
Other people can contribute their hidden travel gems as well, and it allows them to share those special places from their own point of view. Great homemade fudge and ice cream shop on route 70 before you get there? You have to stop and try their Rocky Road Surprise. Friends coming in but you know they will need to eat on the way?  Tell them about that great greasy pizza joint just minutes off their route.
With a little help from present day technology, we can keep the ghosts of hectic Christmas' past away from our future holidays.  The great news is that we can even do it with free software and services. And this is something that even Scrooge would approve of.