A little over a year ago I reviewed the Epson WorkForce 600 All-in-One Printer, and yes I still use it, at least until the new WorkForce 610 arrived for review a few weeks ago. I used the WorkForce 600 almost everyday actually and have yet to have any problems with it, no paper jams, no nothing with it, it has worked flawlessly for me. If you read my review of the 600 then you'll know I found it to be an excellent printer, the 610 in no different in that respect, and really it hasn't changed all that much. The main difference is that the graphical interface has be redesigned for the better. So continue on to learn more about the Epson WorkForce 610..
We'll start off with a video unboxing, followed by the still pictures:
Here's the packaging and the contents:
The WorkForce 610 looks exactly like the WorkForce 600, aesthetically I see no differences.
The Automatic document feeder is on the top, you just flip open the door and insert your paper.
The top opens to reveal the scanner, but then it opens again, under the scanner is where you'll put the ink cartridges.
The input and output paper trays are both collapsible, this is great if you're space limited, just slide it out if you want to print and when you're finished just slide it back in. The paper goes in the tray on the back of the WorkForce 610 and then comes out the front.
On the back you'll find you connections for USB, power, phone lines and Ethernet.
The front is where the main interface is. The whole front access panel can tilt out and up providing the optimal viewing angle for ease of use.
Off to the left side of the panel is the card reader and USB port.
The front panel features an LCD display with several buttons. To the far left of the LCD display is the power button and a quick access button, directly left is the Help and Display/Crop button. Directly right is direction navigation buttons, menu, back and +/- buttons. This panel is the main interface panel for accessing all of the functions of the WorkForce 610.
To the right of the interface panel is the number keypad and dialing buttons for fax functionality, to the far right is two more buttons for Stop/Clear and Start.
The interface is basically identical to the WorkForce 600 with the exception of one button. The main difference, you'll see later, is that Epson redesigned the actual interface on the LCD.
Here's a picture from my review of the WorkForce 600 of the front panel, the View/Auto Correct button has been replaced with the Help button on the 610, other than that they're the same.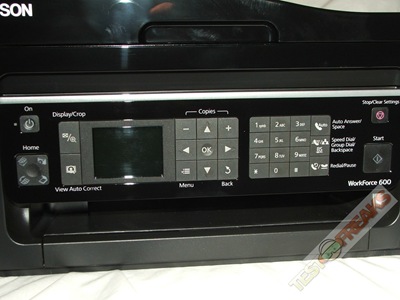 Specifications:
Epson WorkForce 610 All-in-One Printer
Features & Benefits
* Increase your productivity – up to 2x faster than leading competitive ink jets, when printing laser quality text1
* Speed through critical documents – maximum print speeds of 38 ppm black/color; laser quality speeds of 15 ppm black, 9.3 ppm color1
* Protect important documents – instant-dry ink for smudge, fade and water resistant prints; highlighter-friendly too
* Dependable – engineered for reliable paper feeding
* PC fax – save paper by faxing documents directly from your computer1
* Easily share – Wi-Fi for wireless connectivity, and Ethernet for wired networking
* Print three times as much – get about 3x more prints than with our standard 69 ink cartridges, when using the included 97 Extra High-capacity ink cartridge
* Small footprint – takes up less space on your desk
* Save energy – uses up to 70% less power than a laser printer1
* Save paper – save up to 50% of your paper supply with manual, two-sided printing1
* Get more done – 30-page Auto Document Feeder to quickly copy, scan or fax stacks of originals
* High-speed faxing in black and color – as fast as 3 sec per page; speed dial storage up to 60 numbers; fax memory up to 180 pages
* PC-free, borderless photos in a snap – 2.5″ LCD and memory card slots for easy transfer of files
* Individual ink cartridges – replace only the color you need
* Product protection you can count on – 2-year limited warranty; phone support, without charge, for the life of the product; plus, access to exclusive templates, tutorials and offers with product registration
Specifications:
Printing Technology: 4-color CMYK drop-on-demand MicroPiezo ink jet technology
Ink Palette: Cyan, Magenta, Yellow and Black
Ink Cartridge Configuration: 4 individual ink cartridges
Ink Type: DURABrite Ultra pigment ink (smudge, fade, water resistant, and highlighter friendly)
Fade Resistance / Print Longevity: Up to 118 years
Maximum Print Resolution: 5760 x 1440 optimized dpi
Maximum Print Speed:
Black: 38 ppm
Color: 38 ppm2
Laser Quality Print Speed:
Black: 15 ppm
Color: 9.3 ppm2
Scanner Type: Color flatbed
Optical Resolution: 2400 dpi
Hardware Resolution: 2400 x 2400 dpi
Maximum Resolution: 9600 x 9600 dpi interpolated
Scanner Bit Depth: 48-bit color / 24-bit output
Copy Quality: Color: Black/White, Draft: Normal
Copy Quantity: 1 – 99 (PC-free)
Maximum Copy Size: 8.5″ x 11″ (PC-free)
Copy Features: Fit to page, automatic reduction and enlargement (25 – 400%), adjustable copy density
PC-free Printing:
Print all photos, photo index sheet, color photo restoration, scan to PDF, scan to memory card, Auto Photo Correction, print your own school papers, college-ruled, wide-ruled and graph papers, personalized stationery with and without lines
Auto Document Feeder: 30 Sheets
Supported Digital Camera Technologies: Epson PRINT Image Matching®, Exif Print, DPOF, DCF v. 1.0/2.0
Direct Camera Connection: Front PictBridge™ port (print from digital cameras and mobile phones, PC-free)
Color Preview Monitor: 2.5″, tilt LCD display
Built-in Memory Card Slots Compatibility
CompactFlash, Microdrive, Memory Stick, Memory Stick Duo 3, MagicGate Memory Stick, MagicGate Memory Stick Duo 3, Memory Stick PRO, Memory Stick Pro Duo 3, Secure Digital (SD), SDHC, mini SD 3, mini SDHC 3, micro SD 3, micro SDHC3, MultiMediaCard , xD-Picture Card, xD-Picture Card Type-M, xD-Picture Card Type-H
PC- Free Paper Support: Plain (8.5″ x 11″), Photo (4″ x 6″, 5″ x 7″, 8" x 10", 8.5″ x 11″, 16:9 wide)
Fax Capabilities: Black-and-white and color
Fax Specifications: PC fax
Fax Speed: Modem: 33.6 Kbps – as fast as 3 sec per page
Fax Memory (pages): Up to 180 pages
Maximum Paper Size: 8.5″ x 44″
Paper Sizes:
3.5″ x 5″, 4″ x 6″, 5″ x 7″, 8″ x 10″, 8.5″ x 11″, 8.5″ x 14″, A4, B5, A5, A6, half letter, executive, user definable (3.5″ – 44″ in length)
Borderless Photo Sizes:
3.5″ x 5″, 4″ x 6″, 5″ x 7″, 8″ x 10″, 8.5″ x 11″, A4, 16:9 wide
Paper Types:
Supports plain paper, Epson Bright White Paper, Photo Paper Glossy, Premium Photo Paper Glossy, Ultra Premium Photo Paper Glossy, Premium Photo Paper Semi-gloss, Presentation Paper Matte, Premium Presentation Paper Matte, Premium Presentation Paper Matte Double-sided, and Matte Scrapbook Photo Paper (letter)
Envelope Types:
No. 10, DL, C6; plain paper, bond paper, air mail
Input Paper Capacity:
100 sheets plain paper, 10 envelopes
Weight and Dimensions (W x D x H):
Printing: 18.1″ x 22.1″ x 12″
Storage: 18.1″ x 13.6″ x 9.3″
Weight: 18.3 lb
Connectivity:
Hi-Speed USB 2.0
Wireless Wi-Fi (802.11 b/g) — Compatible with 802.11n
Wired Ethernet (10/100 Mbps)
Since I was using the WorkForce 600 I uninstalled all of that software first to make sure I was starting fresh. To install the WorkForce 610 you just pop in the disc and follow the instructions, the installation will vary a little by which type of connection you're using. Once you install the drivers then you can install the extra programs like Presto Page manager and Arcsoft Print Creations. The extra program do add value, but are not needed for the 610 to function.
Once you've got everything installed you'll notice a new icon has appeared on your taskbar, it will let you access the printer and it's properties along with monitor the status of it.
I've got a video of the interface and still pictures of it as well.
The first option is setup, here you'll find everything to setup the printer and all of the settings.
The next option is print ruled papers, you can print not only ruled but custom stationary as well without the PC.
The next menu choice would be Backup Data, this one is rather self-explanatory, it helps you backup your data.
Next would be copy, this works just like a copy machine. You can select amount of copies, color or black and white and color density along with paper type. The copy function is very useful, next to the actual printer I use this one most often. The automatic document feeder can be used with copy to make copying multiple pages easy.
The next menu option is Print Photos. Here you can directly print from various sources like a USB drive or memory card. You'll view the pictures right on the display and print them how you want in various sizes. You can do basic editing functions as well like cropping right through the interface. There are also many option to change when it comes to fixing or correcting the pictures.
The next option would be Scan, this one is self-explanatory as well, it's a scanner which you can use to scan documents or photos. The nice thing about this is that it can also be used without the computer, you can save the scanned image right to a USB drive or memory card.
The last option is Fax, this is for your faxing needs. It's simple, easy to use and it works fine.
I really like the new interface much better, everything is right there for you with no scrolling. Here's one picture of the old interface, you can easily see the difference.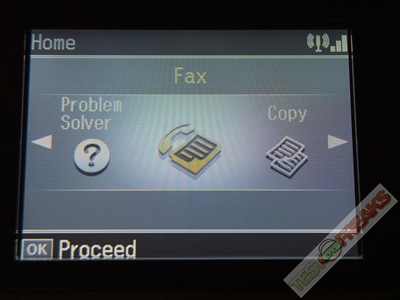 Using the WorkForce 610 is simple, it's one of the easiest printers to use really. The graphical interface makes life much easier.
The print quality is excellent, black is nice and crisp, the results look like those from a laser printer. Printing photos with the WorkForce 610 is easy and the results are excellent, professional quality prints. You will find a difference though depending what type of paper you use, in other words don't print photos on plain paper, only use photo paper. I know people that use regular paper for photos and complain about the quality, I don't understand it really. I really like the photo choice options, you've got many choice when in comes to sizes and types of photos to print out.
Epson sent me different paper samples as well, like heavy stock matte and photo paper, everything looked excellent when printed on the 610.
There are a few things I really love about this printer, the speed is the first one, it's fast, very fast. I also find the auto document feeder very useful when it comes to copying multiple pages. I like the photo print options as well, it's nice to be able to just stick my memory card in the printer and print right from there while making any adjustments if need be.
The specialty things like stationary and ruled papers options are a nice option really. With these specialty options you don't have to open up a creation program and play around with it, you can do everything right from the printer.
As far as faxing, the WorkForce 610 works fine, just like the 600, no differences there at all. I mentioned in the WF600 review that I don't like the lack of a handset and that still holds true for this one.
Scanning and copying are both fairly fast and work fine, no issues there at all.
I've got the WorkForce 610 hooked up to my network via an Ethernet cable only because I've got a switch and have extra spaces on it, and it sits close to the switch. I did use it wirelessly as well, and had no issues there. Since it's hooked to my network everyone in my home can access it. I use my main computer mostly, but I do have other computers in my home, along with netbooks, having it on my network allows everyone and every device to access the printer.
If you look at my WorkForce 600 review you'll find many comments, and the majority mention paper jams and ink issues. As far as paper jams, I've never experienced on yet in the year I've used the 600, and not one on the 610 since I've been using it. The complaints about the ink are that it doesn't seem to last and it won't print if on cartridge it out. They're small cartridges so yes they're limited on ink, but what printer doesn't come with small cartridges? The issue with the not printing, well I've never experienced that since I always have extra ink cartridges. It's a common sense problem really, if you use it a lot you'll use a lot of ink and you'll run out faster, so why wouldn't you have spare cartridges?
You can't beat the price for the WorkForce 610, Epson lists the MSRP at $200, but it can be had for about $140 most places, I think it's well worth the cost.
Conclusion:
The Epson WorkForce 610 is an excellent All-in-one printer that's well worth the cost. If you've looking for a printer that can satisfy your home and business needs and then some, this is the printer you'll want to take a closer look at.
The WorkForce 610 is a feature packed powerhouse that most anyone would be happy with, and with it's low price tag it truly is an excellent choice if you're in the market for an All-in-one printer that truly does it all.<
Yes it can be loud when printing, but to me that's no a big deal. It is big, and it's heavy, weighing in at almost 20 lbs, but it's not meant to be portable.
The WorkForce 610 is a great printer overall, I truly like it a lot and can easily recommened it. I still like the WorkForce 600, but the 610 is better overall especially with the new graphical interface.
Pros:
+Fast printing
+Tons of features and options
+Excellent print quality
+Works perfectly
+Scan and print photos, stationary, specialty items without the PC
+Print directly from USB, memory card of even camera
+Easy to use an install
Cons:
-Large and heavy
-Can be loud
| | |
| --- | --- |
| Grades: | |
| Overall | |
| Design | |
| Performance | |
This product was given to technogog for review by the company for review purposes only, and is not considered by us as payment for the review, we do not, and never will, accept payment from companies to review their products. To learn more about our review policy please visit this page HERE.