Generically called rubber seals, o-rings come in a variety of materials and sizes, depending on the environment where they are going to be used and their particular application.
To make sure you order the right o-rings for your business, it is important to identify not only their size, but also the conditions they must withstand, such as operating temperature, pressure or chemicals they may interact with.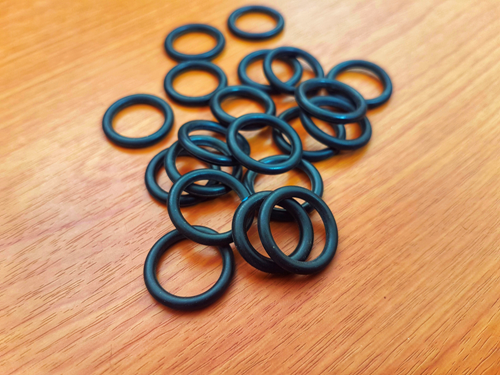 Here are a few tips to help you find the best rubber seals for your applications.
The Best O-Rings for Every Application
Since no two installations or situations are exactly the same, you must perform independent verification. You should also notify your o-ring manufacturer if you require materials to meet certain industry standards, such as food, medical, military or aerospace.
? Nitrile rubber is the most common and economical material for o-rings. Due to its excellent resistance to petroleum-based oils and fuels, it is widely used in the oil and gas industry, for off-road equipment and for low-temperature military applications.

? Ethylene-Propylene is good for water, solvents, acids and steam, which makes EPDM o-rings particularly suitable for the automotive industry and in watertight applications with low-water permeability. With good chemical resistance and electrical insulation, these o-rings are widely used in brake and cooling systems, as well as low-torque drive belts.

? Silicone o-rings are compatible with FDA regulations, making them quite popular seals for medical devices, cosmetics and pharmaceutical manufacturing and the food industry. Typical healthcare applications include respiratory equipment and drug delivery devices, but medical-grade silicone is commonly used for sealing valves, pumps and cylinders of medical devices in general.

? Virgin Teflon (PTFE) o-rings are high-quality cryogenic seals used in MRI machines, LNG handling and a wide range of applications in the extreme cold of outer space.

? Chloroprene (or Neoprene) o-rings are mostly used in the refrigeration industry due to their increased resistance to freon and ammonia. Fairly resistant to ozone, sun and weathering, their shelf life is around 15 years.
Choose Your Rubber Seal Manufacturer Wisely
Whether you need to place custom or bulk orders of o-rings and other sealing devices, it is extremely important to work with a reliable manufacturer. This not only keeps products and manufacturing processes moving, but also maintains a stable supply chain for a greater chance of financial success.
Wondering what your O-ring manufacturer should provide? First, they must put you in contact with an expert design engineering department for your custom solutions. Drawing from their expertise and quality certifications, you will rest assured that everything goes according to plan. Second, they must have fully integrated manufacturing facilities with advanced technologies that will help cut costs and save precious time. With fast prototypes and a large seal inventory, their team should guide you step by step to identify the right product.
Ready to Stock Up on O-Rings?
Now that you know more about specific applications for rubber seals, choose your manufacturer based on the above advice to make sure you keep supply chain processes stable when ordering these sealing devices.