Spying an iphone without installing any software can be a bit tricky because obviously when we hear something about the word software and tools then we all think that it would obviously be something related to installation. We probably think how exactly it would work without installation of a software, but that's not always the case every time.
There are some software that work perfectly fine when it comes to spying without installing anything. In case you are looking for the best option when it comes to spying on the iPhone with installing a software, then this is the best place for this purpose where you have landed. Just have a look at the information we are going to share with you to keep in mind what you need in the finest spy software that works without installation for an iPhone.
Spyic: Best Spy App that works for iPhone without Installing any Software
Whenever someone talks about spy apps for iphone then we cannot deny the significance of Spyic. This is one of the best tools that is available in the market for quite some time. You can use this app to keep an eye on your partners, kids and workers. Whatever the reason you have behind spying, this tool is really good to go for. All those features that one requires in the finest spy tool are available in Spyic. There are many apps that claim to be like Spyic, but when it comes to performance they are nothing more than a scam.
How to Spy on iPhone Without Installing Software
As the initial step, go to the official website of Spyic to make an account and add the valid email address that is in your usage. Make a purchase after choosing the right subscription plan here.
At this stage you will get a welcome email in your inbox. So just go for the commands in the email and start with the device configuration.

Now go to Spyic Control Panel and start spying on the targeted iPhone. Here you will see that the data has started to sync up when iCloud credentials are confirmed.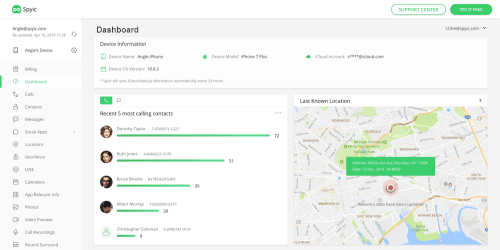 Now you are free to go on the journey of spying. Everything would be accessible to you now and you can gain access to every activity of the spied iphone without any issue. Still if you find any difficulty then you can ask your queries from the customer support team.
Features of Spyic
Stealth-Mode
Spying on Social Media Accounts
Web-Based Interface
No need to Jailbreak and Root
Reliable
Cost-Effective
User-Friendly
Keylogger
Ease of Usage
Stealth-Mode
Most of the spy apps that work for iPhone or Android don't offer this feature, so when you try the best iPhone spy app Spyic, you are easy to go with all your spying actions without any fear of being caught.
Spying on Social Media Accounts
With the help of this tool users can keep an eye on social media accounts, read chats, see friend lists and all the activities that are happening on the spied device without any trouble.
Web-Based Interface
Spyic has a dynamic web-based interface that allows users to use this app with the help of any browser. You don't need some certain type of browser to use this app because it works perfectly fine with every browser.
No need to Jailbreak and Root
To use this app you don't have to jailbreak or root the device. Not many spy apps offer this perk, so if you are looking for it then Spyic is here for you.
Reliable
In case you need to go for something that does all the work professionally then nothing can beat Spyic here in any way. This app does all the work with great expertise and you don't have to be worried about your privacy, as it remains intact with it.
Cost-Effective
If you are tight at budget or don't want to spend much on a spy application then Spyic is the best possible choice for you. This app is really reasonable in price. One of the best things about it is that you can use it for a month as this subscription offer is free for the first month, and later if you find it good then you can go for the paid version. Spyic has more than a single subscription plan at their official website, so go for the paid version that suits your needs in the right way and enjoy the complete perks.
User-Friendly
This is another amazing quality of this tool that cannot be ignored. Spyic is really user-friendly and works perfectly fine with both devices. Whether you have iOS or Android it would work fine with both of them. Though the process is a bit different because for Android you are supposed to install the app first in the spied phone.
Here you will notice that the app has started working in the background after installation and the icon disappears from the screen. It is really small in size and doesn't even drain the battery of the spied device so there is zero% chance of you being caught. For the iPhone you don't have to install anything in the spied phone, as only iCloud account details are required here.
Keylogger
Spyic has a really good keylogger that permits you to keep track of every single tap that is being made on the spied phone. It means to say that everything that the owner of the spied phone will write or typed would be traced and the user of Spyic will receive the report of the spied device's all activities easily.
Conclusion
We hope that now you will be able to understand all the perks that come along with this amazing spy app that can be used for iPhone without installing any software. Just go for it as we can assure you that you will not find anything better than this.