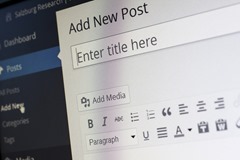 Since it was first launched back in 2003, WordPress (WP) has grown exponentially year on year to become the world's most popular Content Management System (CMS) software and it now powers an estimated 35% of all websites online today.
There are multiple reasons why WP has become the number one CMS in the world – not least of which is that it's perfectly suited to online marketing. Here are just a few ways using WP's functionality and plug-ins can help slash your online marketing budget while still improving your overall site exposure online.
WordPress SEO plug-ins
Since it first started becoming popular as a CMS, keen developers around the world have been producing plug-ins for WP that can greatly extend the functionality of the core system. A plug-in is essentially a snippet of code that can add extra functions to a site and while some extensions are more useful than others, there are now tens of thousands available that can be installed in a matter of minutes to your website.
The base of WP is already extremely search-engine-friendly but there is also a vast range of plug-ins you can add to your site that will improve its chances of being achieving better rankings – everything from adding additional search meta information to software that checks your rankings and makes suggestions to improve the optimization of your pages.
Of these, the Yoast (for SEO) plug-in comes highly recommended and allows users to add and edit the meta description, keywords and title for all your site's pages so that you can include business type, location and company name to your posts – for example, website design Coventry by ALT Agency (type, location, name). This kind of information is invaluable for Google and other search engines to fully understand the point of a website and its intended market. SEO plug-ins are an incredibly useful tool to help your site climb the rankings, reducing your need for advertising.
Most WordPress sites already use responsive layouts
The way we are using the web is changing rapidly and recently the use of mobile devices on the web exceeded that of fixed-line access. If your site is to work effectively it needs to scale to the screen size of the user using a technique called Responsive Design. A responsive website reacts to the display and scales appropriately so it works equally well on everything from a large-screen connected TV to the smallest handheld. In line with this shift in popularity to mobile access, Google has also recently started prioritizing sites built in a responsive format, meaning you already have a head-start in terms of getting listed higher.
Image compression tools
One of the most common reasons for a slow-loading website is the use of images or video on pages. While there isn't too much you can do with video, the same does not apply to images and WP offers a range of image optimization plug-ins that will resize your pictures on-the-fly to make them smaller and consequently quicker to download. Compression can be particularly important if you run an e-commerce site – as is loading speed. Indeed, Amazon found that for every 100 milliseconds saved on loading time they could achieve a 1% jump in revenue. Also, Google has openly stated it is favoring sites that load quicker – meaning you're far more likely to appear higher in the listings if your site uses compressed pictures, again reducing your need to pay for advertising.