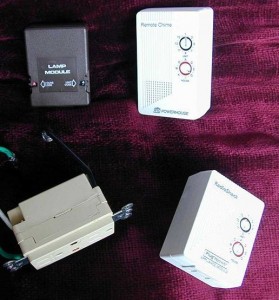 With today's technology it is becoming easier and easier to remain connected to our home computers. But what if we want to extend our reach from beyond the computer to actual control of our homes? Well, that, too, is becoming easier all the time, and here I will give a few tips on how to do exactly that.
As a matter of fact, we will focus on controlling your home from the comfort of your iPhone while you are out and about.
The purpose of the article is to show a way of accomplishing this, and I want to make it as simple as possible. For that reason we will focus on easy to obtain and economical hardware, and perhaps nothing in the home control market is more well known than the X10 family of controllers.

To start with, we will have a requirement – there must be a home computer left on 24 hours a day that will serve as our control point and link to the outside world.
This computer does need its local monitor to stay on when unattended – so set the screen saver and/or power settings to auto power it off after an extended period time.
This will save a little on the power bill and prolong the lifetime of the monitor. The computer itself needs only to be a standard computer… but it does need to have an available USB connector (as well as an internet connection, naturally).
To make the link from the control computer to your house power circuit you will need a USB control interface.
A quick check online shows that the X10 CM15A USB interface is available at a very reasonable price, and this will fit our needs quite well. As a matter of fact, we found the interface, controlling software, and more for under $50.
To set up the interface, you would install the included home control software and connect the CM15A to an available USB port with the provided cable after plugging it into a nearby outlet.

Once you have the interface, it is now a question of asking yourself, "What is it you want to control?"
There are separate control modules in the X10 family for a variety of situations, ranging from appliance and lamp controls to dimming wall switch replacements and HVAC controls. Of course, there are also "professional" modules that are more durable if the situation calls for it, but most homeowners will find that the standard units work okay for their needs.
Now, after you make a basic list of what items you want to control, shop online for a package deal that gives you the modules needed. By looking around for a package deal (check x10.com or ebay) you will be able to buy the modules at a very substantial savings.
Once you have the desired modules installed, it is a simple matter to set a common house code and unit ID for them.
Then you can add the modules to the home control software through its simple graphical interface, and if desired you can even set up virtual rooms for easier control. The overall control setup can be as simple or complex as you wish, but I would caution that you should start slow to see if it works for you as expected.
A nice thing about the system is that it makes life easier for you not only for the sake of remote control, but it also works great when you are at home thanks to readily available X10 remote controls and software that can schedule events automatically or event driven (such as turning on the lights throughout the house when you pull into the driveway – with the addition of an economical sensor).

Now that we have our home control system in place (at least conceptually), we need to talk about how we are going to control it via our iPhone.
This is where I feel that the simple approach really shines. I have used such systems with other mobile devices in the past (Windows Mobile, for example).
Unfortunately, Murphy's Law loves to tinker with anything cool, and remote home control is not impervious. Instead of custom (and/or expensive) software, using a remote PC software such as LogMeIn Ignition on the iPhone allows you to not use the installed control software on the home computer, it will also show any warnings or issues that may be of immediate interest.
Plus it gives you access to said home computer for any files or email, and provides for a single point of access when you need to check on things back at the ranch.
By using generic remote software you can also stop and restart any misbehaving control programs from the iPhone, and if needed reboot the control PC to correct a communications problem with the power interface (rare, but it happens).
Now that you have everything in place, you should be able to whip out the iPhone and turn on the porch lights and dim the living room lights.
While you're at it, you can set up a schedule to kick on tomorrow night (when you will be hiking on the trails out of tower reach). Or even check on the pics from the web cam, noting that all looks as you expect.
It's the next best thing to being there.