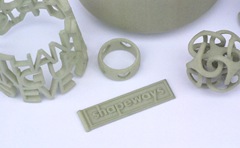 So I got an email yesterday with a press release in it along with a chance for one of our readers to get a free 3d ShapeWays model for Mother's Day.  Read on to learn about ShapeWays and what you need to do to win one of these cool models…
Shapeways (www.shapeways.com), the web's premier three dimensional design and model printing service, today announced three stunning new dye colors for its line of pre-fab and custom designed creations. These new colors – Lime Stone, Terracotta and Blue Jean Blue – offer rustic, earth-toned possibilities for more industrial and rustic effects.
Custom 3D Gifts for Mom's Day: ShapeWays adds earth tone colors
Shapeways allows amateur cinematographers a cost-effective, quick solution to prop and model creation for special effects. Using ShapeWays' creator application (http://www.shapeways.com/creator/), many pre-existing templates are available. Most industry standard modeling software work with ShapeWays, and designs can be delivered in just a few days.  Just in time for Mother's Day, Shapeways can also be used to create the perfect gift for Mom — we have a full selection of jewelery, bead designs, pendants, napkin rings, candle holders, home decor, picture frams and much, much more.
The models are created from custom-molded polymers crafted to order, and our standard white porous "Super Strong" material can easily be painted for a fully personalized effect.
Shapeways is pleased to announce its widely anticipated color dye for 3D printed models. Shapeways combines their cutting-edge 3D printing technology with the best of hand-wrought craftsmanship to allow consumers to see their designs not only in the round, but with surfaces finished in brilliant colors that are sure to further the enjoyment and utility of each and every creation.
In keeping with the modern, sleek feel of the majority of its customers' designs, Shapeways has selected Limestone, Terracotta and Blue Jean Blue as the premiere colors. With the cool, naturalistic feel of limestone, the contemporary vibe of denim, the heat and sophistication of terracotta, the look and feel of the colored models deftly mimic the material they are inspired by. Based on the White Strong and Flexible material, the most popular on Shapeways, colored objects will have the quality in structure that consumers have come to expect from Shapeways printed objects. Shapeways is certain that these premiere colors will be utilized in a variety of innovative and creative ways, and will soon be offering a greater range of colors in hopes of offering a palette that can fulfill all of your color 3D printing needs.
"The community has asked and we have listened", commented Peter Weijmarshausen, "with these special colors we take the already existing technology of Rapid Manufacturing and make it this little bit more relevant for everyone."
The process used by Shapeways is based on dying the material. This is an intensive manual approach which consists of deeply cleaning the printed parts, heating them in a bath of nylon dye, followed by another thorough cleansing of the now-colored objects. This process insures a deep, intense color that will stand the test of time. The dyeing process adds a level of artisan craft to the advanced technology of 3D printing, but with this hands-on work, slight color differences may occur. The Shapeways colors can be viewed at: http://www.shapeways.com
As I mentioned in the intro one of our readers can have one of these for free for their Mothers for Mother's Day!
Just leave a comment, making sure you fill in the email space so I can contact you and that's it. We'll pick someone on Monday and send them the details on how to claim their prize!!
Not a bad deal, design a gift for your Mom, not quite handmade, but rather nice.
Samples: