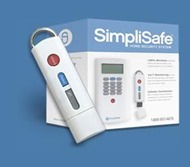 If you are looking for one of the best home alarm systems to protect your home and your family, SimpliSafe can be your best solution. It's easy to install and it won't bind you on strict and expensive contracts. Moreover, SimpliSafe is rated A+ in the Better Business Bureau which proves it's capability to provide you with excellent security.
Monitoring Packages:
SimpliSafe relies on cellular monitoring in keeping your home safe. This is actually the most preferred means of communicating your emergency signals to the monitoring station because it is more stable and withstanding than using landline or broadband communications. SimpliSafe offers you with three monitoring packages to choose from.
The most affordable among the three options is the Standard Monitoring Package at $14.99. This price can already provide you with 24/7 monitoring that covers fire, burglary, health and personal safety. However, if you want a more comprehensive monitoring, you can avail the $24.99 Interactive Monitoring Package. It includes all of SimpliSafe's monitoring and notification features as well as the capability to access your system through your computer or your tablet. The Alert Monitoring Package, meanwhile, is priced at $19.99. With this package, you'll be able to get alerts, through your smart phone or your email, about your security system.
On the other hand, if you don't want to subscribe to any monitoring plans, you can choose to self monitor your system. Your security will still be able to sound an alarm. However, there will be no monitoring station to respond to your emergencies and you won't be able to receive notifications in case your security system has been tripped. Self monitoring your system is free of charge.
Equipment Packages:
SimpliSafe offers five equipment packages which are able to cater to different home sizes. If you have a big home, you can choose to purchase SimpliSafe's 17-piece set or its Ultimate Package. However, if you own a small home or if you live in an apartment, you can simply choose its Starter Package at $229. It's a five-piece set that includes a base station, a motion sensor, a wireless keypad, and a door/ window sensor and a keychain remote. Similar with all the other packages, the Starter Pack also comes with a yard sign and window stickers.
SimpliSafe has a clever way of making sure your emergency signals are sent even though a burglar has already laid his hands on your security. It created a base station that is separate from the wireless keypad. During a break in, the wireless keypad acts as a decoy by emitting audible beeps while the base station quietly sends an alarm signal to the monitoring station. Once the station is able to receive the alert, the whole security system will then sound the siren. This siren's loudness is marked at 105 decibels which can be more than enough to wake your neighbors up in the middle of the night.
Because there are no contracts, SimpliSafe may require you to hand in upfront payments for the equipments aside from the fees you have to pay for the monitoring plans. Each of the devices you receive for your security system is covered by a three year warranty. In case you find any fault on your devices after buying it, you have 60 full days to return them and receive a refund.
Installation
SimpliSafe Home Security System is DIY in nature which means you don't need to pay extra for installation fees. You also won't need to let any technician inside your home to set up your security. Moreover, SimpliSafe is also a wireless system. There will be no external wires for burglars to cut and you have more freedom in setting up the devices at home.
Special Considerations:
· SimpliSafe does not offer surveillance and home security cameras. If you feel the need to visually check on your home from time to time, this may not be the right security system for you.
· The security system's monitoring station is UL listed and 5 Diamond certified. It is able to respond to your emergencies in around 12 seconds.
· Because the system is installed as DIY, you can bring it along with you when you move to another home or location.
· SimpliSafe is solely focused on monitoring and protecting your home. It doesn't offer home automation capabilities.
SimpliSafe is generally plug and play in nature. This means that you just have to take the devices off of their packages, plug them, follow a few procedures and you're good to go. In case you experience difficulties with installation, SimpliSafe can provide you with an efficient customer service. They can assist you throughout the process of installation. If you feel the need to know more about this system, you can read through a more comprehensive SimpliSafe review.