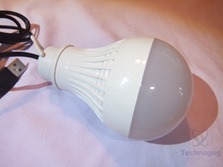 There's all kinds of USB powered devices out there and a lot of them a kind of worthless or just gimmicks or novelties but very once in a while you come across one that is actually useful. Today for review I've got the MiFine portable USB LED light and it's exactly what it sounds like, a light with a USB connection on it for power. One of the interesting things is that it looks like a light bulb, but it's LED and of course powered by USB and there's a power switch inline. I've been using it for numerous things and I've come to like it a lot actually. Read on to learn more…

Specifications and Features
Mifine Led Portable Camping Tent Lamp power outage Emergency light – day white
-High Brightness:Our 5W LED emergency light bulb Brightness equivalent to a 40W incandescent bulb,Even can for 20 square meters room use.
-Super Energy Saving and High Quality:Long Service Life ,more than 35000 hours.Low Power consumption:only 1mA
-Eye Protection:Pure and simple DC working,No stroboscopic.
-Thermal Dissipation:Outer shell with heat dissipation function, better to protect the LED bulb,environmental protection.Cord Comes with Switch,very safe and convenient.
-Application:Suitable for travel, camping, beach tent, night stalling, or emergency.
A brand new super energy saving and brightness USB led light bulb for your camping night or emergency use, lightweight and portable.
Apply to reading,living,emergency, camping and all outdoor activities.
With a plastic hook on the top of the bulb(environmental protection) and 1.5m USB long wire, it can be hang on the tent or the house.
Cord Comes with Switch, no need to plug and unplug the USB port frequently.bulb holder strong and easy to carry.
Highly durable – shatter, shock, and vibration resistant.
Will fully illuminate a tent at night.
Powered by any USB source, such as power bank, computer, laptop, or with the cellphone charger adapter,suitable for all USB socket.  
Item Weight: 2.1 ounces
Product Dimensions: 4 x 2 x 2 inches
Price: $9.99 (from Amazon at time of review)
The Review
Let's start with a video unboxing and sort of mini review:
The box the light shipped in to me didn't look like it was the correct box, the box is for a regular LED light bulb and not a USB powered on. Not a big concern though, lots of times companies use generic style box for similar products, it's what's inside that counts.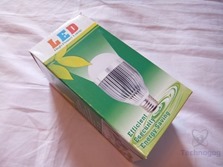 Inside of the box was just the light bulb and a cleaning cloth, no instructions or anything else. It's USB so I don't really think you need instructions on how to work it, you plug it in and flip the switch.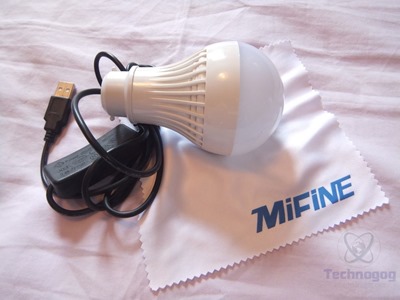 The light very much resembles a light bulb. It's plastic but it's shatter, shock and vibration resistant so it would be great to take with you camping or hiking and you won't have worry much. It's not waterproof though. The light itself is very lightweight, it honestly feels kind of cheaply made but it's supposedly not.
I should note that you can pop the white cover off fairly easily and inside you'll find ten small LEDs attached to a circuit board. If you take the cover off it does get brighter but not by much surprisingly.
On the top end is a plastic ring so you can hang the light bulb up to illuminate an area.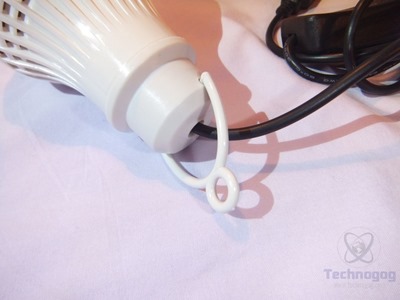 The cord is about 50 inches long and towards the USB connection, about 14 inches from it, is the power switch. The switch is a rocker style that makes a loud audible clicking sound when pressed.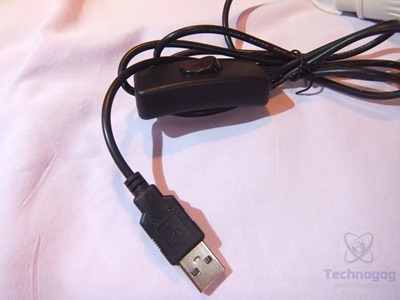 The light is very bright, more then enough to light up a tent or small room easily. I've used it for numerous things like looking for something that I dropped under my desk and doing some work inside of my computer for example.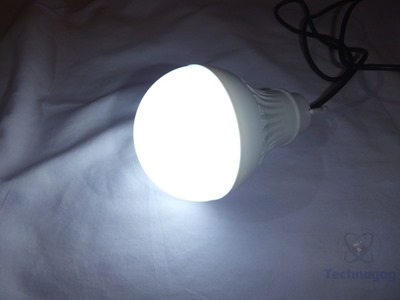 This light has plenty of uses around the house. I paired it with a 10000mAh external USB battery pack it makes for a great portable light that will last a long time.
Conclusion
The MiFine USB light is one of those things that you might wonder what it's for, but it does all kinds of uses.
You could use it for emergencies, or take it with you camping or just use it around the house, and you could even use it as a desk lamp powered right from your computer. Speaking of computers, I've used it while I was cleaning out my computer to help me see inside of the case better.
It's really not a bad product at all that I've found to be really useful and I'm going to keep it handy as you never know when you need the extra light.
Pros:
+All kinds of uses
+Great for camping, outdoors or emergencies
+USB powered
+Fairly well made
Cons:
-Kind of feels cheaply made
| | |
| --- | --- |
| Grading | Scores Out of 10 |
| Overall | |
| Design / Aesthetic | |
| Value / Price | |
| Performance / Usage | |

Disclosure: This product was given to us for review by the company for review purposes only, and is not considered by us as payment for the review.
To learn more about our review policy please visit this page HERE.