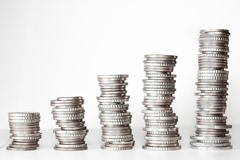 Are you old enough to remember the days of checkbook balancing, on pen and paper?
Many millennials don't even own a checkbook, preferring quicker methods like Venmo or Paypal to pay friends and bills.
And since they don't have checkbooks, many young people aren't balancing theirs, since it's all online.
That's a mistake, and the solution is as easy as downloading a checkbook app. Here's why and which you should download, below.
Modern Money: What Makes a Great Checkbook App?
Balancing your checkbook used to be something they taught in schools, back when more people had cash and we used debit cards for fewer transactions.
Even when people started using cards more, they'd still track their purchases on paper.
It wasn't until online banking became the norm that people stopped writing down what they were spending. Why would they, when the computer could do it for them?
The technology was there, balancing it for them – or was it?
While the transaction history is there, people spend more when they don't think about their purchases. So unless you check your bank account every time you make a purchase, you need a checkbook app.
It's mostly automated, but you can categorize your spending and get a better overall idea of your financial standing, compared to looking at one bank statement at a time.
Not all apps are made the same, though. Here are a few of our favorite financial apps for any level of financial literacy.
Mint
This app is one of the oldest and most established financial apps on the market. It will not only help your balance your checkbook, but it can create and monitor a budget for you.
The app even connects to most online banking systems and uploads your purchases in real-time. That means all you have to do to balance it is properly categorize your purchases when they pop up in-app.
The basic version of the app is free, but it's worth upgrading to their premium offering. It's worth the couple of bucks a month – since it'll help you budget and save way more than that.
Clear Checkbook
If you want an app that looks more like the balanced checkbooks of past and less like a general budgeting app, you'll like this offering.
The interface is very easy to navigate and it features cloud storage, so you can always have the information you need (as long as you remember your password!)
One cool feature this app has is email bill reminds, which are great when you get busy and forget tomorrow is the first of the month, which means rent is due.
Have multiple checking accounts? No problem – the app can integrate purchases from different sources, as long as you give it permission.
It's free to use and they have video tutorials on app usage and settings on their website.
Wallet Whiz
If you're willing to pay 99 cents for an app upfront (worth it!) then look into WalletWhiz. It's an Apple-only offering – so Android users, we're sorry.
Unlike our last suggestion, this is more of a budgeting app than a traditional checkbook app – but most financial apps these days are.
What's unique about this app is it allows you to create different budgets for different weeks, like if you were to need a payday loan one week (learn more here).
You can think of it like Mint – lite, though they're not by the same company.
People who use the app give it four stars on average, which is decent and the app doesn't seem to have any big bug issues to report on.
It's a cheap solution for Apple users that will save you money.
Check Writer
Do you need an actual check and don't feel like going to the grocery store to get a money order? You can download this app and print checks from home, for free.
Granted you'll need a printer with ink and printer paper, but the app doesn't charge any fees.
You'll have to provide it with the account and routing numbers from your bank, which you can find on your account statement or on your online banking profile.
If you're going to need checks often though, it's worth paying the $10 or so to get a book from your bank – but this app works when you're in a pinch!
Dave Banking for Humans
If you're looking for an app that makes banking a bit … less boring, or dare we say fun, check this one out. The cute little bear mascot walks you through the app at first and the app has a decent amount of features.
One of the most unique things about the Dave app is that you can get a $100 advance from the app without interest.
The app costs about a dollar a month – and there are limits on how often you can get advances on your paycheck.
It's available on both Apple and Android – so get downloading!
Choosing Your Checkbook App
Out of all these apps, choose the one that sounds the easiest to you. Don't be afraid to download more than one checkbook app to find the one you like.
The apps are going to ask you to link your bank accounts to fully set up your app. While these are trustworthy apps, there's always a risk when you share your information online.
Be careful and do your research before you link any of your information.
To learn more about tech apps and tools to make your life easier, click around.