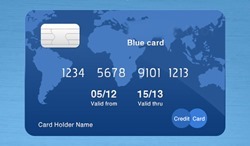 Banks and other financial institutions have designed several ways for consumers to borrow money, for a cost. On the surface, most people who tap into the coffers of large companies to help fund major purchases or in some cases, everyday expenses, are drawn to the predictability and often lower-cost structure of unsecured and secured loans. However, over the last decade, rewards credit cards have become one of the most popular ways to borrow money, despite their double-digit interest rates. Consumers like the idea of earning something on the purchases they make, and credit card issuers have taken note. To make the most of a rewards credit card, though, there are steps you should take to ensure you're getting the best bang for your borrowed buck.
Know What You Want
A quick online search yields countless offers for credit cards touting attractive rewards, but not every card is the smartest choice for every spender. Maximizing your credit card rewards starts with knowing the perks you value the most. For some, that means frequent flyer miles on a favorite airline, while for others that means cold hard cash in hand. There are certainly options for each flavor of reward, but be sure to make a selection that fits your preferences. It's also important to understand how rewards are credited, if they can be transferred to another rewards program, and the level of flexibility you have when redeeming them.
Pay Attention to Upfront Bonuses
Although there are fewer upfront bonuses available in today's credit card market, some card issuers still hefty sign-on rewards to qualified borrowers. The majority of substantial rewards points for new card members are credited after a certain level of spending is reached within a certain timeframe. If you know you can meet that spending threshold – and you have a plan for paying off the balance – upfront bonuses are a smart way to get more out of your rewards credit card fast.
Spend Strategically
Each rewards card has its own rules and restrictions on how and when points, miles, or cash back are earned and credited to your account. Pay close attention to your credit card agreement and rewards program details to ensure you're spending on the categories that generate the highest number of rewards. Several credit card issuers have bonus categories, like spending at a gas station or grocery store, that earn up to 5% for each dollar spent, but all other purchases earn 1% for the same amount. Other cards offer a flat rewards rate for all purchases, meaning if you utilize your card for nearly all your spending, you could make significantly more in points than a bonus card. It's helpful to understand what you spend the most money on and use the rewards card that provides the greatest reward potential for that category.
Have a Budget
The best way to optimize your credit card spending is first to know what you can afford to put on credit. Spending limits vary depending on your credit history and score, and unlike lower-cost loans, the double-digit interest applied to credit card spending adds up quickly. Take a close look at your budget and monthly cash flow to help gain a necessary understanding of what can safely go on credit and what should be paid for with cash. Taking these steps before you start swiping a credit card will ensure you're getting the most out of your rewards programs.