The gaming world has been a billion-dollar industry for so many years. The industry's value reached 17.68 billion by 2016. Gaming has a misconception that it is solely intended for kids; however, data shows that more and more adults are getting into gaming. The average gamers' age is 35.
Game enthusiasts vary in style, taste and preference. Some might enjoy playing games in their personal computers, while the others enjoy playing their video games in their consoles such as PlayStation, Xbox or Nintendo.
Gaming Industry Consumers
Game enthusiasts spent a total of 30.4 billion dollars on gaming in 2016. 2.2 billion was spent on gears and accessories; 3.7 billion on hardware and 24.5 million was spent on game content. It is an industry that generates billions in revenue due to its constant innovation and technological advancements.
Gaming Gears
Gaming gears are created to enhance the gamers' level of playing. From headsets to upgraded gaming consoles, each gear is intended to optimize the gaming experience of the gamers.
Choosing which gear to purchase can be tricky. Many are already available in the market and it might get confusing, especially if you are a gaming newbie. Before you purchase gaming gears for yourself or for someone else, review the specs and check if it is compatible with your console.
Gears for the PC Gamer
Some gamers prefer using their personal computers. Online games such as World of Warcraft, Dota, Starcraft, League of Legends, Minecraft and Counter-Strike are some of the most popular PC games of all time.
If you are a game enthusiast and you want to enhance your gaming experience, these gears are worth trying out: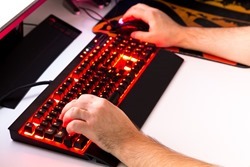 Upgrade your gaming keyboard: K55 RGB Keyboard by Corsair Gaming – This is ideal for those who take their PC gaming seriously. This keyboard is quiet but very responsive. The keyboard layout is optimal for serious PC gamers. It includes 6 programmable buttons to help make game control easier. Its ergonomic design is ideal for hours of intense gaming, as its soft rubber mat provides comfort to the wrist. This keyboard can be found for around $50.
 Experience surround sound with comfort: The HyperX KHX-H3CL/WR Headset– A high quality headset for gaming, the HyperX KHX-H3CL/WR is compatible with mobile phones, PlayStation 4 and personal computers. This comfortable headset is lightweight and offers noise cancelling ear cups. It has a condenser mic and utilizes stereo sound for a different kind of gaming experience. You should be able to purchase this product for $80.
 Try out a new game. This year, many are anticipating new game releases. Take a break from your usual video game and try out a new one. Some of the most anticipated new releases include:
a) Age of Empires: Definitive Edition
b) Kingdom Come: Deliverance
c) Far Cry 5
d) Monster Hunter World
e) State of Decay 2
Take your PC gaming to the next level with these gears. Enjoy hours of gameplay with the added comfort and features.
Gears for the Console Gamer
Gamers who prefer console games also have a wide range of choices when it comes to gaming gears. Some of the trending gears to choose for game enthusiasts include:
Logitech Driving Force G29 – Enjoy racing games with this gear. It features a wheel with gearshift lever, soft rubber grip, 900-degree wheel spin, auto-calibration, adjustment dial in 24-position setting and a carpet grip system. This steering wheel setup allows you to play your game like you are in a real car. This is compatible with PlayStation 4 as well as your personal computer. It retails for around $336.
PlayStation Platinum Wireless Headset – Experience incredible sound performance with this wireless headset. Its plush ear pads provide maximum comfort, which is ideal for long hours of console gaming. Set up is easy and hassle-free. You can purchase this for around $120.
One Elite Wireless Controller for Xbox – With its sleek design, this Xbox wireless controller has a better feel to it. It is extremely comfortable, which is great especially if you play your Xbox for hours. The directional pads and thumbsticks are interchangeable to adjust to your comfort. Gearscope

Raymond Sam is a massive gamer, with thousands of hours in competitive gaming. He's really good at picking out gear for other people and writes for Gearscope.com.