Are you tired of your super slow web browser? Do you want to ensure you use a web browser that offers the most protection? If you want a change of pace and guaranteed browser security, read on.
This post will discuss which is the very best of the web browsers out there.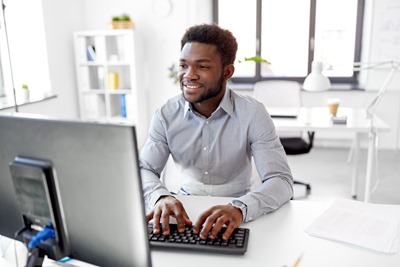 The world is inching towards more mobile internet use. However, this doesn't mean that desktop computers will get left behind. In a 2018 study, more page views per visit happened on the computer rather than on mobile.
We know that you want the very best so why not use the best browser for your internet browsing? Read on below for our list of the top web browsers.
1. What Makes a Great Browser?
The internet offers many other browsers out there. There are even some you may not have heard of yet. Before we delve into which is the best of the web browsers, let's look at what makes one worthy of this list.
If you remember Microsoft's infamous Internet Explorer, you have an idea of a bad browser. It was slow, incompatible, unprotected, and limited. Now, let's discuss the opposite of all that.
The first thing you want in a browser is top-notch speed. Websites have many elements that affect their loading speed on your browser. A great browser can handle any website, even one that's overloaded with too many elements.
The second element that makes a great browser is compatibility. Today, the internet is chockfull of varied website designs and layouts. Even their functionalities can have vast differences.
Browsers need to be compatible with any website. A great browser is compatible with the basic and most common scripts for websites. However, some cases of incompatibility are due to websites without updated building standards.
Security is a top feature that all good browsers need. Cybercriminals learn new tricks every day and, in turn, their cyberattacks improve too. Browsers need to keep up with them or at least protect against them.
A good web browser needs a good set of practical features. These include add-ons, customization tools, and other installable features. Finally, you want a web browser that has a great help and support team to talk to in case you have any issues.
2. Best Browser for Add-ons and Extensions
Let's begin with the best browser for personal convenience and personalization. As we said earlier, compatibility is an important browser feature. Here, Google Chrome takes the cake.
There's no doubt that it's one of the biggest contenders for the best web browser. It has a massive extensions library. Thanks to that, it even has a fan base dedicated to contributing to this extension ecosystem.
Also, Chrome has deep integration features, including mobile syncing. This means that any extensions you have enabled on Chrome stay in sync with your other devices. Thus, you can also say that Chrome ranks number one for integration.
If you want an alternative browser, Opera stands tall in 2nd place in this category. You can run the same Chrome extensions on Opera with the same ease.
3. Best Lightweight Browser
Some of the best browsers include Chrome, Opera, Safari, and Mozilla Firefox. However, they all demand a lot of system resources. They're not the ideal web browsers for those who work on laptops and have little RAM.
If you don't demand much from a browser, try Midori. It's an open-source browser that consumes the least amount of resources. Midori has a minimalistic UI to complement its simple and straightforward function.
4. Best Browser for Privacy
Is privacy something you value? If so, then you want to use the Mozilla Firefox web browser. This open-source browser stands out with its incognito mode.
Most browsers don't track browsing history and cookies. Firefox ups the privacy game by adding ad and tracker blockers in its incognito mode. The best part is you don't sacrifice extensibility for it.
5. Best Browser for Security
The internet is a sea full of good and bad things. That includes cat videos and malware, respectively. You want something that lets you access the former and protect you from the latter.
Out of all internet-connected programs, web browsers are some of the most vulnerable to cyberattacks. Any of the common browser security threats opens you to all kinds of cyber danger. To protect yourself against these threats, use the Opera web browser.
If Opera knows you're using secure sites, it lets you go to it without a hitch. It's a great browser for slow connections with a built-in VPN. Plus, it already has an integrated ad-blocker for all your ad-blocking needs.
6. Fastest Browser
We all want to avoid the dreaded lag when we're surfing the web. As we mentioned earlier, if a browser can't handle the load from a website, it lags. Here, however, we've got a tie on our hands for the fastest browser.
Yes, gone are the days when Chrome ruled as the uncontested browser for best in loading speed. Now, Firefox is giving Google a run for its money. Let's talk about Firefox Quantum vs. Chrome.
Compatible and quick as ever, Google Chrome set the standard for speedy browsing. It helps with quick page navigation by letting you pin bookmarks to the homepage. It's available to use on Windows, Mac, Android, and iOS.
Firefox Quantum is the new and super fast web browser from Mozilla. Compared to older Firefox browsers, it loads pages at top speed. It's also available on Windows, Mac, Android, iOS, and Linux.
7. Which is the Best of the Web Browsers?
To answer the big question, the best web browser depends on what you're looking for in a web browser. Do you want something lightweight or something that can handle many add-ons? Is your priority privacy and security?
If so, the best browser to use would be Google Chrome. It has fast performance and great compatibility. The only disadvantage with Google Chrome is that it needs a lot of RAM.
It's the best browser for Mac and Windows. It also works on iOS, Android, and Linux.
If you want an alternative for Chrome, Mozilla Firefox is at a close second place. It's also fast, offers great privacy, and is lighter on system resources. The drawback of it is its Android version, which needs updating.
Browse in Comfort
That's it our verdict on which browser is the very best of the web browsers. Do you agree with us? Try using each one yourself and find out.
Did you enjoy this informative post? Do you want to read more about the best browsers for Mac? Check out our other helpful guides now.