The computing equipment used to support the Olympic games have always been chosen for their stellar performance and reliability, the same qualities that drive the world's leading athletes to the top of their game.
As a Worldwide TOP Partner in the upcoming 2010 Olympic Winter Games in Vancouver, Acer is proud to be providing more than 6,500 pieces of computing equipment and more than 100 engineers and technicians to support the management of what is probably the most complex sporting event in the world.
In addition, Acer is commemorating its partnership in the Olympic Games with a range of special edition products, which are distinguished by the Acer Olympic Games composite logo, showing the Acer brand name and the Olympic rings together.   These special-edition products were designed to showcase excellence in engineering and design.
Below follows more details on Acer's role in providing IT products and support, as well as information on the new Special Edition notebooks and LCDs, all available now.
During the games, a large number of critical applications will be running on Acer equipment, supporting the delivery of results and updates to the press and fans. Acer notebooks, desktops, monitors and servers will support the deployment of sporting events at 9 competition and 6 non-competition venues over a 16-day period. Many of these systems will have to be duplicated in different cities and all venues will be controlled remotely.
Equipment will be subjected to severe weather conditions, enormous stress and will run continuously for 24 hours a day. This is why products destined for the Olympic Games were carefully chosen to deliver top performance and extreme reliability for seamless, error-free operation at the Games.
Among the computers supporting the Olympic Games IT infrastructure will be Acer Veriton 1000 and Acer TravelMate 6592. With their unmistakable reliability, manageability and high performance, the world's greatest sporting events will be served by the world's best-engineered notebooks.
Acer Special Edition Notebooks
• Acer Aspire 4810T – Sporting a glossy silver finish and diamond-cut Olympic Games composite logo (showing the Acer brand name and the Olympic rings together), this special edition of the award-winning Timeline series is a 14-inch ultrathin and ultra-light notebook that combines top performance with more than 8 hours battery life for a full day of computing power.
Based on the latest Intel ULV processors, it also comes with the latest communication options to keep you in constant touch with personal and business contacts.
Ideal for mobile entertainment, the HD resolution LED backlit display with true 16:9 aspect ratio and Dolby Sound Room provides a first class cinematic viewing experience, delivering PC based entertainment at its finest.
• Aspire 1810T — Featuring a sliver brushed metal finish and the diamond-cut Olympic Games composite logo, the 1810T combines extreme thinness and featherweight design with superior performance and more than 8 hours battery life.  It is slim and light enough to be carried along at all times, allowing you to be productive and get more done while traveling or working off site.
Despite its small size (less than one-inch thin and weighing only about 3 pounds), the Aspire 1810T can deliver the power and performance expected from a full-sized laptop for a full 8 hour work day.
Acer Special Edition LCDs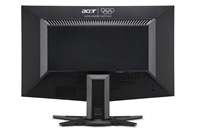 • The Acer G5 series of displays (the G205H and G245H) combine a striking design with high-end features, so you can experience the excitement of true to life quality images.  Available in two screen sizes (24- and 20-inches), both proudly show the Five Rings Olympic logo on the brushed aluminum base and on the rear of the body.
The fashionable G5 displays are designed to deliver a winning visual experience, with full HD or HD resolutions, 2ms response time and advanced digital connectivity thanks to the HDMI and DVI ports.  Enhanced moving-picture performance and an exceptionally high contrast ratio with ACM delivers a dramatic improvement in gradation and detail.