I have to admit I'm rather curious about this stuff. A glass screen protector has to be better than a plastic one, but how would you apply it? Anyway, Armorz has just announced that you can now get their Gorilla Glass screen protectors called the Stealth Extreme R for either the iPad Air or Mini Retina. Price is $90 for the Air and $70 for the Retina which might sound high, but you have to remember they're glass and I'm sure they're meant to stay on your device forever really.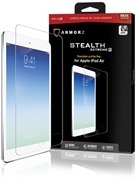 Armorz, a leading manufacturer of mobile technology accessories, unveils the Stealth Extreme R for the Apple iPad Air and iPad Mini Retina, the world's first Corning Gorilla 0.4 glass tempered screen protector that is available now. Comprised of revolutionary Corning Gorilla glass, the new Stealth Extreme R is only 0.4mm thick and boasts unbeatable, shatterproof protection, as well as tapered edges for an appealing look and extreme durability.

Armorz's world-class engineers carefully designed the Stealth Extreme R with 9H hardness-rated processed glass to absorb shock and safeguard your device from heavy-duty scratches and abrasions. Additionally, Armorz has developed a product that does not ignore aesthetics for protection. The Stealth's tapered (rounded) edges provide a sleek, enhanced profile on your tablet, while still reinforcing critical points of impact and bolstering durability.

While the entire surface of the Stealth Extreme R is transparent, the underside is covered with strong silicon adhesive for easy installation without bubbling or lifting. In addition, this oleophobic coating prevents fingerprints and smudges, making it very easy to clean and maintain.

"As the mobile accessories industry continues to evolve, quality screen protection is a key component when consumers utilize their crucial mobile devices," says Morgan Clancy, Chief Marketing Officer of Armorz. "Our innovative Stealth Extreme R made of revolutionary Corning Gorilla glass offers users superior screen protection without sacrificing its exciting style features."

Availability

The Stealth Extreme R Tempered Glass Screen Protector retails for iPad Air- $89.95 and iPad Mini Retina-$69.95 and is available now at www.armorz.com and Amazon.com.