Wow, 2800Mhz is pretty fast, that is if your rig can handle it. Sadly I don't thin mine can, then again I don't think I ever tried either. Anyway, if you're looking for some fast and good looking memory then you need to check out the latest from Kingston in their HyperX line of Predator memory that can hit 2800mhz but as of of now it's only available in 8gb kits. Still though you can get the HyperX Predator in kits of two sticks of four sticks in 8gb and 16gb sizes, but just lower speeds.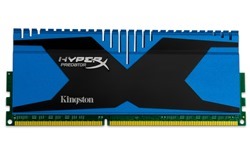 HyperX®, a division of Kingston Technology Company, Inc., the independent world leader in memory products, today announced the addition of 2800MHz memory kits to the HyperX Predator product line. The new 2800MHz memory kits exhibit top-of-the-market speed and are specifically designed for high-end overclockers, system builders and performance enthusiasts.

HyperX Predator represents the fastest Kingston® memory available on the market. In addition to top speeds, HyperX Predator features an aggressive design to enhance the look and performance of the latest PC hardware while providing greater heat dissipation to optimize memory reliability. The memory is Intel®XMP ready and has been fully tested and validated on a wide range of motherboards currently available on the market. End users can easily overclock their systems by simply selecting a profile in BIOS with no need for manual adjustments.

"We are proud to offer our flagship 2800MHz memory kits to overclockers, benchmarkers and system builders throughout the world," said Lawrence Yang, HyperX business manager, Kingston. "Our HyperX engineers will continue working hard to improve high-speed yields to get faster product in the hands of our customers."

HyperX Predator is available in speeds up to 2800MHz and kits from 8GB to 16GB in various dual- and quad-channel configurations. The new 2800MHz kit is currently available in an 8GB kit of two with a CAS latency of 12.

For more information visit the HyperX home page.