Hmm… this looks to be interesting!
Coy Christmas, President of BragGame Rights, Minnesota's only licensed console gaming host location, has revealed a new company – BGRMODS, LLC, which will offer gamers the latest in mods. The first product to come out of BGRMODS is IntensaFIRE.
According to Christmas, "We saw a need in the gaming market. Console and accessory modification is a large part of the gaming world. The problem was that gamers buy mod kits for their controllers only to find out they were too complex to assemble themselves. So we partnered with an engineering team to get a product to the gamers that eliminates the technical curve, and offers more than the standard mod kit does." The product is made and assembled in the USA, is lead-free and 100% recyclable, and retails for $29.99.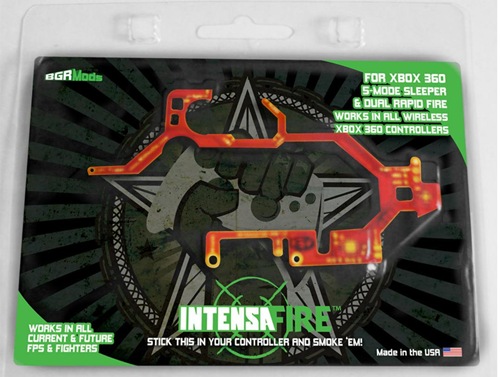 The IntensaFIRE modifies XBOX 360 wireless controllers (CG and Matrix), allowing them to control 5-mode sleeper settings, including a customizable user programmable mode. It uses the existing Sync button to toggle modes on and off. Advanced users have the option of adding a button to a prefabricated area on the IntensaFIRE.
Usable in all XBOX 360 games, including gamer favorites: Left 4 Dead, the Call of Duty series, the Halo series, the Gears of War series, and Street Fighter, and any future First Person Shooters or Fighter games, the IntensaFIRE promises to bring your play to a new level.
"4-mode sleeper mod kits exist. Dual rapid-fire mod kits exist. The IntensaFIRE mod kit has both. There are pre-fab controllers on the market, that do some of what the IntensaFIRE offers, each controller going for well over $100. We offer a 5-mode kit that is extremely simple to install, taking no more than 3 minutes with minimal tools, for about a quarter of the cost. Other mod kits require drilling, wiring, and deconstruction of your controllers. The IntensaFIRE only needs a few existing points of glue to connect the IntensaFIRE flex board to the controller and you're ready to go! You also get blue and red LED's to identify which mode you're in, at no extra cost," says Christmas.
The product will be available at local independent dealers beginning September 7, 2009, but will premier at Penny Arcade Expo (PAX), in Seattle, WA September 4-6. For locations and more information visit BGRMODS.com.
Web Site: http://www.bgrmods.com/