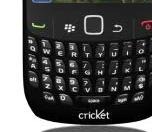 So you can now get the BlackBerry Curve on the Cricket network for $299.99 on a $60 per month contract that offers nationwide service like unlimited talk, text, email, web and international texting as well. The BB curve has a full QWERTY keyboard with a 320×240 display along with GPS, Wi-Fi and Bluetooth and even a 2mp camera.
Starting today, Cricket branded retail stores, dealers nationwide and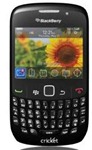 "By offering industry-leading Smartphones, like the BlackBerry Curve 8530, Cricket is delivering the products people want at the prices they can afford," stated Al Moschner, Cricket's chief operating officer. "Add that to our new all-inclusive, true rate BlackBerry Plan that offers 3G service at nearly half the cost of other 3G Smartphone plans in the market, and Cricket is solidifying its position as the cost-conscious provider, respecting the budgets and real-life needs of our customers every step of the way."
The sleek BlackBerry Curve 8530 Smartphone comes equipped with numerous advanced features including the industry's leading email and messaging solution, a comfortable full-QWERTY keyboard, high-resolution 320 x 240 pixel color display, BlackBerry Messenger, and access to thousands of applications via BlackBerry App World. It also features a powerful media player with dedicated media keys integrated into the top of the handset, a 2 MP camera with video recording*, built-in GPS and Wi-Fi (802.11 b/g) as well as Bluetooth support, plus, of course, unlimited talk, text, video and picture messaging capabilities offered on Cricket's BlackBerry service plan.
For more information about Cricket's dynamic handset lineup, please visit www.mycricket.com.