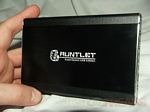 USB 3.0 is getting more and more mainstream and it's nice to see it. I was an early adopter and what was out there was limited and expensive, but most new technologies are. With USB 3.0 becoming more mainstream more companies are coming out with compatible products, which makes for more competition which in turn brings the prices down, which is a good thing for the consumer.
Today for review Patriot has sent me of the Gauntlet USB 3.0 enclosure for 2.5" hard drives and SSDs. The Gauntlet is extremely well made of aluminum, it looks great and it's inexpensive when compared to others, even those that are no-name or generic brands. Included with the enclosure is an extra USB power cable in case you might need it and the enclosure even has a backup button on it to be used in conjunction with the included software to make your backups quick and easy.

The Gauntlet comes in a nice looking box and it's packaged well.
Inside you'll find the enclosure itself, USB 3.0 cable, USB power cable and software disc.
The enclosure is black aluminum and looks very nice, even empty it's fairly heavy. On the top is the Gauntlet logo, and the front has the Patriot logo.
The back comes off to install the hard drive, it's held on by two screws. On the back you'll find the USB 3 connection, USB power connection, backup button and an LED indicator.
Specifications:
Gauntlet USB 3.0 2.5 HDD Enclosure
PCGT25S
With an elegant all aluminum design and high quality craftsmanship, the Patriot Gauntlet SuperSpeed USB 2.5″ enclosure merges the speed and performance of USB 3.0 technology with portability. Gauntlet works with your 2.5″ SATA I/II HDD or SSD, offers 5Gbps transfer rates and hot swappable plug and play connectivity. Installation of your 2.5″ HDD or SSD is simple and transforms your drive into a high-performance portable storage solution for use with desktop/notebook computers and USB enabled media players. Use Gauntlet to save and transport critical data or to transfer data from an old HDD when upgrading your system. A built-in One Touch Backup (OTB) button provides an easy way to backup data when used with the included data backup software application.
Features:
* Maximum transfer rates up to 5Gbps
* Backwards compatible with USB 2.0 and 1.1
* Supports all SATA I/II 2.5″ Hard Disk Drives or Solid State Drives up to 9.5mm height
* Hot-swappable Plug & Play connectivity
* LED activity light
* Compliant with Universal Serial Bus 3.0 Specification
* Supports HDD and SSD up to 500GB capacity
* Supports USB Mass Storage Class Bulk-Only Transport, Revision 1.0
* SATA I/II interface
* All Aluminum Design
Price: $32.99 (at NewEgg at time of review)

To install a hard drive in the Gauntlet you'll need to remove two screws and then pull the end off exposing the circuit board and SATA connections. You just push the hard drive into the connections and then slide it back into the enclosure then secure the screws.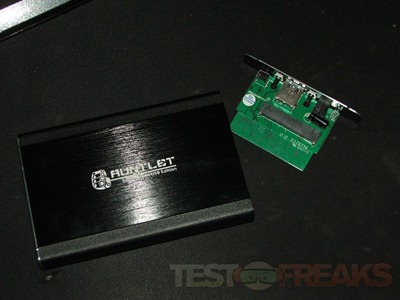 To use the backup button you'll need to pop in the CD and install the software which happens to be PCClone Ex Lite. This software is actually popular with devices like this one, I've seen it with many enclosures and docks that have the backup button on them.
The PCClone EX software works fine, but it's basic stuff. I've used it before, but personally I don't care for it, I do my backups manually. It's nothing against the Gauntlet enclosure itself, I've never used the backup button on any of these types of products myself. I use enclosures just to transfer data from one place to another and I have my NAS box for backups.
For testing I used a Seagate 7200.4 7200RPM 500gig hard drive and the OCZ Solid 2 60gb SSD as well.
I used ATTO for testing and tested USB 3.0, USB 2.0 and SATA for comparisons.
First up is the Seagate hard drive:
The USB 3 and SATA speeds are very close, of course the USB 2 interface is very slow in comparison.
Next up is the OCZ SSD:
Here we see the SATA and USB 3 are close, the write speeds are pretty much the same but the read speeds are a bit faster on the SATA connection. It's only about 40 mb/s slower on the USB 3 connection, which isn't bad really.
I did test with and without the power cable attached and the speeds were exactly the same so my computer was providing more than enough power.
The aluminum enclosure did get warm to the touch, but it's supposed to as it acts like a big heatsink for the drive inside.
Conclusion:
It's nice to review a product with no flaws. The Gauntlet offers decent speeds and it's very well made.
The included extra power cable is nice to see, not many companies include them with their enclosures, or they use 'Y' cables, which I don't care for really. The backup button is a nice addition, it works well with the included software, but the software is basic, but it works for backups.
If you need a USB 3.0 enclosure then I think you should seriously look at the Gauntlet from Patriot as I think it's a great choice.
The Gauntlet is one of the least expensive USB 3.0 enclosures out there today, which makes it even a better choice.
Pros:
+Very well made
+Decent speeds
+Includes easy to use backup software
+Includes extra USB cable for power just in case
+Long USB 3.0 cable
Cons:
-None really
| | |
| --- | --- |
| Grades: | |
| Overall | |
| Design | |
| Performance | |
To learn more about our review policy please visit this page HERE.