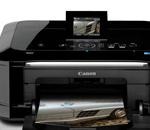 I love all-in-one printers, I just find them so useful! Canon has just introduced two new ones in their Pixma line that feature the ability to grab scenes from movies and print them and a touch surface for easy navigation. they also have 802.11N functionality for even faster network transfer rates. The new printers are the MG8120 with an MSRP of $300 and the MG6120 with an MSRP of $200. These printers are also able to print from iPhone and even Android now.
Designed with ease-of-use in mind, the new Intelligent Touch System is a game changer for overall printer usability. Consumers will find it easier and quicker than ever to navigate through menus and perform everyday tasks with back-lit touch sensitive buttons and a new light guidance system eliminating buttons not in use, thus reducing opportunities for mistakes. In the early onset of touch technology, many products utilized resistive touch technology which relied on pressure being applied to the touch surface in order to get the desired result. The new Canon PIXMA MG8120 and MG6120 Wireless1 Photo AIO printers use the fast and responsive capacitive touch technology which picks up on electricity in the users body when a finger glides across the touch surface designed to provide for seamless navigation through menus and other desired commands. This same technology is utilized in many of today's popular smartphones and when combined with the light guidance system, consumers will be surprised at how tasks can be accomplished quicker than ever before.
The new Full HD Movie Print provides consumers with a new alternative for preserving many of those memorable moments which in the past may have been rather challenging to catch. When using compatible HD Canon EOS and PowerShot Digital cameras, consumers can print individual frames of movies captured from scenes such as a child blowing out a candle on their first birthday cake or of a couple dancing on their wedding day. The days of missing those special moments can now be considered a thing of the past. With Full HD Movie Print consumers can be confident the scenes captured on a camera whether through still or movie capabilities, can be shared for years to come.
PIXMA MG8120 Wireless Photo AIO Printer
When searching for a printer that generates photo-lab quality results in addition to having unique and easy to use features, look no further than the Canon PIXMA MG8120 Wireless Photo AIO printer. With six individual ink tanks, including one which is gray, utilizing the ChromaLife100 + ink system, consumers can produce high-quality color in addition to black and white images at an industry leading maximum color resolution of 9600 x 2400 dpi. For users interested in converting older slides and negatives to digital, a built-in Film Adapter Unit has also been included. The Advanced Media Handling options such as Auto Duplex copying, printing and a two-way paper feed can help reduce the amount of time it takes to complete a project as well. The overall speed in which a high quality borderless 4" x 6" photo can be produced has also been improved over the prior generation, with one completed in approximately 20 seconds. A must-have for any consumer interested in printing high-quality photos or important documents from the comfort of home, the MG8120 has an estimated selling price of $299.99.
PIXMA MG6120 Wireless Photo AIO Printer
The Canon PIXMA MG6120 Wireless Photo AIO printer not only provides high-quality results but is affordable as well. Similar to the flagship MG8120, this new printer features a gray ink tank for printing of high-quality black and white images along with color. The six individual ink tanks can produce an industry leading maximum color resolution of 9600 x 2400 dpi. The 3.0-inch LCD screen and similar Advanced Media Handling features found on the MG8120 further add to the versatility of this new AIO printer. Capable of producing a high-quality borderless6 4" x 6" photo in approximately 20 seconds, the MG6120 has an estimated selling price of $199.99.
Website:
http://www.usa.canon.com