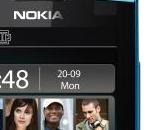 Nokia has just announced it's new X3 phone called the Touch and Type which features a touch screen and regular keypad. It's got 3g, Wlan, and an FM radio along with a 5mp camera that has 4x digital zoom. It's only 9.6mm thick and it comes in five different colors.
The Nokia X3 also features dedicated music and messaging keys allowing fast access to important Ovi services including social and entertainment applications. In addition to Ovi Mail, people's favorite consumer email and chat accounts can be pushed direct to the phone via Nokia Messaging.
With a gentle glide over the touch screen people can go online and get access to many services including thousands of apps from Ovi Store. In certain markets, the new phone will also be available with Ovi Music Unlimited, enabling the owner to access a virtually limitless range of the latest hit music that can be stored on the available 16GB memory card.
The Nokia X3 – affordable and accessible touch and type which is simple-to-use and beautifully designed. The Nokia X3 Touch and Type sits alongside the Nokia X3-00, a slider with strong music functionality, which was launched in September 2009.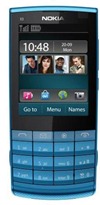 "Innovation is not just a high-end game. The Nokia X3 is a great example of bringing new consumer value to lower price points," said Mary McDowell, Executive Vice President of Mobile Phones at Nokia.
"With the Nokia X3 we are giving consumers the best of both worlds by combining a touch screen and a keypad in an affordable device. We have given people a larger screen with clear icons and menus plus kept critical keys such as the send and end keys. We've also added dedicated function keys for important links like music and text messaging," she said.
For more information, please visit: http://events.nokia.com/touchandtype/
For the Nokia X3 Touch and Type design video, please visit: http://www.youtube.com/watch?v=zmqf_nktDag
This company's web site http://www.nokia.com