I always slightly giggle when I hear the name of this game, and then giggle more when I read the descriptions. Anyway here's some more screen shots for PC and iPhone versions of Cargasm and some info too. Despite the name and references the game looks decent I think.
About Cargasm
Heralding a return of the classic arcade racer, Cargasm gives gamers a host of supercars which they can enter into different races. All the race tracks are set in meticulously recreated photorealistic real-world locations such as San Francisco, London, Yosemite National Park, Egypt, Switzerland and Mount Kilmanjaro.
The central London levels in Cargasm are the most photorealistic in the history of videogames. Created using laser scanning, the buildings and monuments in the London levels are accurate to within inches. This level of accuracy means that every window, doorway, balcony and lamp post is exactly as it is in the real city.
Here's iPhone screenshots:
They only sent over two PC screenshots, but it looks decent: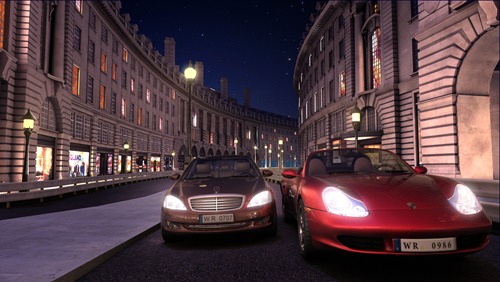 Cargasm Harem
During races, players will be constantly exhorted to go faster by a bevy of Cargasm Girls. If they are fast enough, players can collect these ravishing maidens for their own personal Cargasm Harem. As the players win races, new cars, Ecstasy points and trophies can also be unlocked and uploaded to an online global leaderboard.
The trophies that can be won include Cargasm Rave, Thrust, Lesbos, Orgy, Gigolo, Lothario, Playboy and the most coveted of all, Cargasm Sultan.
Social Networking Features
Cargasm is a racing game designed from the ground up for the social networking generation. Players can upload race statistics to sites such as Facebook and Hi5, update friends about their in-game achievements and invite them to multiplayer sessions. The game will also be playable inside a browser.
Read more about the game at www.lovegasm.com.