Ok, I've got the Galaxy S Captivate and now I think I must have this new camera from Samsung called the SH100 that allows you to connect to the phone wirelessly. This thing though just has a a tone of features and it's only going to set you back $200!
Samsung's pioneering steps within the connected camera market can be seen in the SH100's unique innovation, which allows you to connect wirelessly to your other devices with ease. You can use Wi-Fi to connect to your Android® powered Galaxy S™ smartphone, so you can view the shot you're about to take in real time on your phone. If you're not happy with it, you can zoom in and out to get the best picture, and then activate the shutter remotely when you're ready to pose. This innovation means that the days of running between your camera and your subject, trying to line up the perfect group shot, are over. Users now have total control of their camera in the palm of their hand, from wherever they are in the shot. Users can even use their phone's GPS to record exactly where they were when they captured their favorite memories.
The SH100's built in Wi-Fi can also automatically back up your shots to your PC by only pushing two buttons, or by using DLNA to wirelessly connect to your HDTV and see your photos and videos right away. Wi-Fi enables you to upload your pictures instantly to your social networking sites such as Facebook, Picasa or Photo Bucket, or email them to individual email addresses straight from the camera. The people you care about can now enjoy your experience from wherever they are. You can also record HD video and share your favorite moments over sites such as YouTube™. To make the upload process of large files easier and quicker, the SH100 includes an account with mobile hotspot provider Boingo™, giving you access to over 200,000 Wi-Fi hotspots worldwide.
The SH100 is the latest example of Samsung's user-focused innovation and design. The company has always carefully researched its target audience, and in 2011, Samsung is applying this research to create unique products for a younger, more digitally connected generation of camera users. The company is also leveraging its strength in other product areas, such as mobile phones, to make emerging camera technologies, such as Wi-Fi, accessible to all camera buyers, even those on smaller budgets.
"At Samsung, we are always striving to innovate and you can see this in every product we release," said Mr. Hyunho Chung, Executive Vice President and Head of the Digital Imaging Business, Samsung Electronics. "From our in-depth consumer research, we know that younger users have different needs from their digital camera. They don't want to wait until they get home to share their favorite moments with their friends, they want to be able to do this instantly from wherever they are. The SH100 gives young people the chance to bring their world closer, by drawing on Samsung's technological strength to deliver total connectivity in a compact camera, at an accessible price. Through the SH100, we hope to provide the best product for people looking for ultimate connectivity from their camera, and strengthen Samsung's leadership in the compact camera category."
Experience the Convenience
The SH100 uses built in Wi-Fi capability to deliver unique new experiences for all camera users. By selecting the PC Auto Back-up function, your camera will automatically find your PC and download the latest photos onto it, even if the PC is turned off. This feature is compatible with the Wake-on-LAN (WoL) system which many modern home PCs are already equipped with.
Innovation in Control Helps you Capture the Moment
The Wi-Fi capability on the SH100 also allows you to use your smartphone as a remote control and viewing device for your camera. If you're shooting over a crowd at a concert, you can enable the Remote Viewfinder function, meaning that you can hold your camera high over your head while you see a preview of the picture in real time on your phone screen. It's also ideal for taking self shots as you can zoom in and out using the 5x optical zoom, and access basic menu functions including parameters and shooting modes. When you're happy with the shot, you can operate the shutter remotely too, and the camera will record the GPS information for photo geo-tagging.
Seamlessly Simple
Samsung has also used its strength in the smartphone market to develop a new Smart Access user interface (UI) for all of its new compact cameras. The touch based UI works in the same quick, intuitive way as many smartphones. Advanced functions, such as sharing content wirelessly, can be done simply by a few touches of the buttons on the large, clear 3" LCD screen. The Smart Access UI enables users to drag, click and control 'app-style' icons, easily flip through photos, and control a range of the camera's features.
The Heart of your Digital Home
The SH100 features Samsung AllShare, which uses DLNA technology to allow you to connect to your HDTV and stream content wirelessly. For instance, when you get home from a concert, you can now watch the videos of your favorite songs instantly on your TV.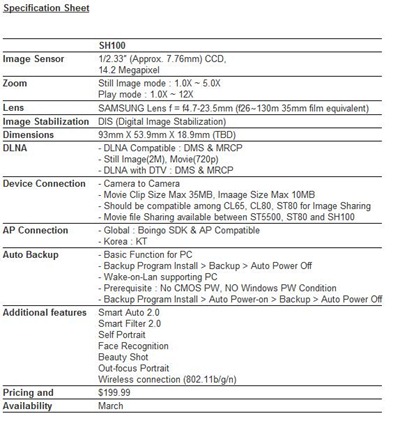 For more information, please visit www.samsung.com.