Ands more Vizio news, told you they were busy. This time we've got headphones, blu-rays players and soundbars mentioned. New high-performance Home Theater Soundbars include models designed to complement TVs from 32-inches and larger, an ultra-slim design ideal for HDTVs, and HDMI connectivity to support 3D TVs and Blu- ray players. VIZIO's complete line-up of ear buds and headphones offer listening solutions for everyone from audiophiles to style-conscious listeners and Active Noise-Cancelling Wireless Home Theater Headphones deliver high-resolution audio with on-the-go mobility and even Bluetooth Stereo Headphones with built-in microphone lets the user easily multitask between music, phone calls and video chat with the touch of a button.
VIZIO announced today it is expanding its lineup of immersive audio and home theater solutions to include new models and new product categories.  Building on its success as the #1 manufacturer of Home Theater SoundBars**, VIZIO will expand its product line with three new models: VSB205, VHT215, and VHT520. VIZIO is also announcing a complete family of headphones designed for everyone from the home theater audiophile to the casual MP3 listener: the XVTHP200 Active Noise Cancelling Wireless Home Theater Headphones, the XVTHB100 Bluetooth Stereo Headphones, the stylish VIZIO Designer Stereo headphones, the VHE201 Sound Isolating High Performance Ear buds and the top-of-the-line XVTHE300 Ear Buds.
With these new products, there's an audio solution for every lifestyle, combining advanced technology with VIZIO's innovative design, providing audio freedom for all.
"By expanding VIZIO's offering of audio solutions, we're delivering on our promise to provide consumers with superior audio technology that's affordable and easy to use," said John Schindler, VP of Product Development at VIZIO. "Our lineup is packed with the industry's most sought-after features housed in sleek designs."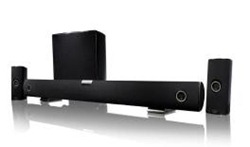 Soundbars Complete the Home Theater Experience
Expanding the current line of award-winning and best-selling Home Theater Soundbars, VIZIO announces the VSB205, VHT215, and VHT520 models.
The VSB205 Home Theater Soundbar is perfect for 32" and larger TVs, featuring SRS Wow audio processing for deep, rich bass while still having detailed high frequencies for clarity. The single bar delivers powerful sound performance to any home theater room, incorporates both left and right channels, and has an analog stereo RCA jack for cable, satellite or Blu-ray player hookup, and a 3.5mm mini-jack for portable devices. The included remote is easy to use and has an elegant design.
The VSB205 Home Theater Soundbar can be placed on a table or wall mounted with the included stand-mounts, for a compact fit in any room.
The VHT215 Home Theater Soundbar with wireless subwoofer has a stunningly thin design to match ultra-thin LED LCDs 40" and larger. With 2 HDMI 1.4a inputs, one HDMI 1.4a output with Audio Return Channel support, and one each analog stereo, coax, and optical inputs, the VHT215 aims to be the central hub for the A/V system. Consumers can choose to have multiple devices connected directly to the Soundbar or could choose to connect just one cable needs to be run between the TV and the Soundbar, making setup a breeze.
Both the VHT215 and the VHT520 Home Theater Soundbars can be paired with one of VIZIO's Wireless HD Audio products. When so paired, no physical connection is needed, and uncompressed audio signal can be transmitted up to 60 feet away. When matched with VIZIO's new Home Theater Headphones (see below) the VHT215 and VHT520 Home Theater Soundbars will automatically mute when the headphones are activated.
For that next level in performance, the VHT215 Home Theater Soundbar with wireless subwoofer also has a powerful wireless subwoofer that can be placed conveniently in the room.
For the pinnacle in performance, the VHT520 Home Theater Soundbar with Wireless Subwoofer has three full channels integrated into the bar, plus two surround speakers and a powerful wireless subwoofer. Designed to work with flat panel TVs 42" and up, the bar features 3" high-efficiency mid-range drivers and 0.75" tweeters with neodymium magnets for each of the left and right channels. The center channel has two 3" drivers of its own and the same tweeter. The surround speakers each have 2" drivers with the matching tweeter, ensuring a uniform sound field.
The 6.5" subwoofer has a crafted-wood cabinet, and automatically syncs wirelessly with the Soundbar. With this powerful and tightly responsive sub, explosions and thunderous bass lines never sounded so amazing.
Like the VHT215, the VHT520 Home Theater Soundbar has two HDMI inputs and one HDMI 1.4a output, making setup flexible and simple. The 5.1 channel VHT520 offers the ultimate home theater experience, and is the perfect match for any Theater 3D, Cinema HDTV, or any other high-performance HDTV.
All three new soundbars will be available later this year.
Best in Audio Video Playback and More…….
New Blu-ray players unveiled include the VBR133 3D Blu-ray Player and VBR122 Blu-ray Player with Wireless Internet Apps.  Adding to its Blu-ray player line-up, the new models deliver cutting-edge image quality and connectivity in compact designs that fit any home theater room.  With exceptional full HD 3D video performance and a suite of Internet apps that include Netflix, Vudu, Pandora, BLOCKBUSTER On Demand® and Hulu Plus™, the VBR133 Blu-ray Player is one powerful entertainment machine.  The VBR122 Blu-ray Player integrates Wi-Fi connectivity for even easier access to streaming entertainment from the same suite of Internet Apps.  With its all-digital HDMI port, optical digital audio and coaxial digital audio outputs, connectors are kept to a minimum for simplicity and space-saving. Both Blu-ray players will be available later this year.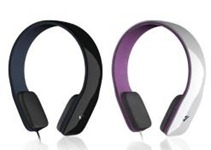 HD Audio for your Head
The XVTHP100 Active Noise Cancelling Wireless Home Theater Headphones provide high definition, uncompressed, crystal-clear surround sound transmitted wirelessly when paired with any VIZIO VHT SoundBar. Not only can you use these headphones wirelessly, but with the 3.5 mm line-in jack you can take your music on the go. Active Noise Cancelling (ANC) technology helps reduce unwanted background noise so you can tune out the rest of the world. With their powerful 40mm neodymium drivers you get exceptional audio reproduction. The XVTHP100 are available first half this year.
With VIZIO's XVTHB100 Bluetooth Stereo Headphones, superb audio quality for wireless music listening is just the beginning. Using Bluetooth and a built-in microphone, the headphones can connect to a laptop, mobile phone and even a VIZIO Internet Apps (VIA) enabled HDTV for private TV viewing. Answering calls, even while listening to music, is handled with a single pushbutton click. High-performance 30mm Neodymium drivers take full advantage of advanced SRS sound processing to produce a rich, immersive audio listening environment. A lightweight, adjustable over-the-ear headband design makes the headphones comfortable even for extended listening sessions and telephone conversations. Rechargeable with up to 9 hours of talk time, these headphones are the perfect all-in-one source for work, play, and travel. The XVTHB100 is available now.
The VIZIO Designer Stereo Headphones are elegantly crafted headbands made for style and performance. No-tangle flat cabling, built-in microphone with pendant controls, and 40mm drivers allow for an easy-to-use and great sounding audio solution. With a range of colors and fabrics, the Europa headphones are the ideal accessory for the fashion conscious and will be available later this year.
The fourth high-performance VIZIO headphone option, the VHE201 Sound Isolating Performance Ear Buds are the perfect affordable choice for listening with portable devices, even in noisy environments. Three sizes of ear cushions are provided, enabling users to find the optimum fit for both noise isolation and low-frequency performance. Dynamic drivers using high-efficiency Neodymium magnets produce superb audio clarity with powerful bass. Even the connecting cable is taken into consideration, using a flat, tangle-resistant design ideal for listeners on-the-go. The VHE201 will be available later this month.
Then for the audiophile with a discriminating ear, VIZIO's top-of-the-line ear buds, the XVTHE300, utilize balanced armature driver technology that reproduces superior full-range audio. They also include no-tangle flat cabling and built-in microphone with pendant controls. The XVTHE300 ear buds come in stylish colors and in an extremely small package for extended comfort listening. The XVTHE300 will be available in first half 2010.
*Sources: Q3 2010 iSuppli and DisplaySearch Reports
**Sources: CEA's Q3 2010 MarketMetrics Data
Web Site: http://www.vizio.com