Wow, Vizion has been hard at work over the past year apparently, they're just had a ton of announcements and there's even more coming.  Companions for the HD Life include VIZIO's Universal Wireless HD Video and Audio kit, stylish Theater 3D™ eyewear, 7" Mobile LED LCD TV, Quick Install Slim HDTV Wall Mount, High-Speed HDMI Cable with HDMI Micro Connector, and Universal Home Theater Remote Control and VIZIO introduces one of the first of the new generation of mobile TVs with the new ATSC M/H standard.
The Beyond TV category has been highly successful, having seen over 300% growth since 2009 in sound bar sales alone, where VIZIO now holds the #1 market position**. Cable sales have shown similar successes with 88% growth year over year 2009.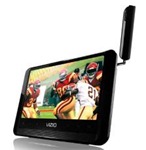 "Our partners and consumers trust the VIZIO name, and want us to offer products in new categories," says Randy Waynick, VIZIO Chief Sales Officer. "By expanding the Beyond TV line, we can both fulfill our customers' desire for additional products of VIZIO innovation, and attract new customers that may be unfamiliar with our brand."
Free Your TV of Wires with the Universal Wireless HD Video and Audio Kit VIZIO's new XWH200 Universal Wireless HD Video and Audio Kit helps fulfill the dream of many HDTV owners: a gorgeous big screen centerpiece for their home theater. The XWH200 transmits over wireless signals uncompressed full HD video and audio from your source components (like Blu-ray) to your TV. No software required. Just connect up to four HDMI sources to the transmitter, then the receiver to your HDTV. Using the included remote control, select the desired source and your video and audio is sent wirelessly to the TV. Compliant with the WirelessHD™ 1.0 standard, the XWH200 operates at the 60 GHz frequency and is able to handle up to 4 Gbps of data, more than enough for 1,080p, 3D, and even 4k by 2k content.
Unlike other products on the market, the XWH200 does not interfere with existing wireless networks, nor does it compress the image, and it's compatible with any HDMI source including game consoles, cable/satellite boxes, Blu-ray disc players, digital media receivers and more.
The XWH200 makes setting up a TV even easier, eliminating the need to run long HDMI cables across carpets, or worse, through walls. Users can hide AV equipment away in a cabinet or other discrete location in the room and allow the HDTV to be the visual centerpiece of their home theater.
By eliminating the need for wires, VIZIO's XWH200 makes it easier for more people to enjoy an elegant flat panel TV, floating clean on the wall just as they envisioned.
The XWH200 will be available this spring.
Say Goodbye to Crude and Bulky 3D Glasses
VIZIO's new Theater 3D eyewear is the stylish and comfortable compliment to Theater 3D TVs. By utilizing a circular polarized 3D filter, the burden of 3D processing is built into the TV, allowing the Theater 3D eyewear to be free of the batteries and shutter mechanisms inherent in Active Shutter 3D TVs. In addition, Theater 3D eyewear can be used to view 3D movies in a majority of movie theaters.
Besides utilizing more comfortable eyewear, Theater 3D also offers several performance advantages over conventional, "active" 3D systems. Theater 3D is up to 2X brighter, significantly reduces crosstalk when compared to current Active Shutter LCD TVs in the market, handles fast motion with less blurring, has a wider horizontal viewing angle, and has none of the annoying Active Shutter 3D flicker that may cause eye strain. Theater 3D eyewear is also compatible with most 3D movie theaters.
The XPG201/202 glasses feature an attractive design with curved lenses for more comfortable viewing, premium quality optical lenses for best 3D experience and a high quality, durable frame. 
Now you can experience the 3D comfortably with all your friends and family just like in the movie theater.
Both the XPG201 single pack and the XPG202 2-pack are available this month.
The Freedom to Roam with the VMB071 Mobile TV
The VMB071 is one of the first of the new generation of mobile TVs with the new ATSC M/H standard that allows consumers to enjoy broadcast, over-the-air TV programming while on the road. The new standard continues to expand across metropolitan cities across the U.S., giving TV lovers new found freedom to stay connected with their favorite shows. Additionally, an RF connector and an A/V input lets you plug the TV into nearly any video source, like mp3 player, DVD player, or gaming console, for a handy portable screen while away from home.
The VMB071 can also double as an LED-lit LCD picture frame thanks to a USB input on the back, and integral kickstand allows for hands-free viewing.
Sporting VIZIO's Edge Lit Razor LED technology and a resolution of 800 by 480, the 7-inch screen has a bright, crystal-clear image. The rechargeable battery provides up to 3.5 hours of viewing time while the touch-sensitive controls are intuitive and easy to use.
At less than 1" thick and only 1 pound without its stand, the VMB071 is perfect for keeping you up to date on all your favorite shows when you're on the go, camping, at work (we won't tell), or watching coverage of the big game… while you're at the game or even walking into the stadium.
The VMB071 will come with a carrying case, cleaning cloth, sleek remote, and cables.
Lightning Fast and Ultra Slim Wall Mount
Building on VIZIO's highly successful line of wall mounts, the XMF1000 Quick Install Slim HDTV Wall Mount features a unique crossbar design that's remarkably easy to install, and includes options for flat, 4-, or 9-degree down tilt for different installation need. Built to compliment ultra-thin LED LCDs, the XMF1000 can support TVs between 32 and 55-inches and up to 100 pounds, mounted just 1" from the wall. The mount comes with $10,000 component insurance.
Currently available are the XMA, XMT and XMF lines of universal articulating, tilt and flush mounts for TVs 19-60" in size.
Though most consumers interested in an HDTV want to mount it on the wall, few due because of the complexity and labor involved. VIZIO's new XMF1000 makes it easier than ever to free up floor space and hang the TV the way they wanted.
The XMF1000 will be available in this month.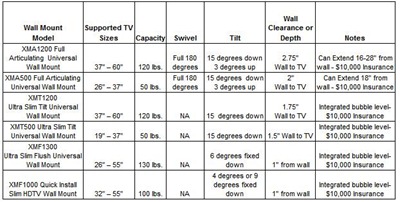 Sleek and Simple Universal Home Theater Remote Control
For uncomplicated all-in-one home theater control, the XRU100 is a universal home theater remote that can control up to 3 devices and supports over 500 brands and over 2500 devices. The remote control supports TV, set top box, Blu-ray player and more.
The XRU100 features a code search mode that automatically determines the device without time-consuming code lookup or confusing manual entry.
Not content with the homely universal remotes that are near ubiquitous, VIZIO's XRU100 offers user-friendly features in an attractive design.
The XRU100 will be available this month.
Enjoy HD Content from Your Portable Device on Your HDTV with the High-Speed HDMI Cable with HDMI Micro Connector
In order to ensure the best quality video and audio from portable devices, VIZIO announces the XCH556 High Speed HDMI Cable with HDMI Micro Connector. Ideal for connecting portable AV equipment to HDTVs or other displays, it has an integrated smart chip to help ensure picture perfect HD with a slimmer design than conventional HDMI cables. This is the perfect companion to carry with the portable device and share the content on larger screen.    
The XCH556 High-Speed HDMI Cables joins the Extreme Slim Series, which incorporate RedMere's Smart Chip that allows for a cable that is thinner, more flexible, and more environmentally friendly, while meeting the latest High Speed HDMI standards. The XCH5/6 Extreme Slim Series cables are available in 6-foot lengths with standard HDMI connectors.
The High-Speed HDMI Cables in the Ultra Flat Series deliver premium A/V performance, ensuring optimum picture quality with high-performance HDTVs and 3D HDTVs. Capable of up handling signals of up to 10.2 Gbps, these cables can support resolutions higher than 1080p. Their flat profile makes for great installation flexibility.  The XCH3/4 Ultra Flat Series cables come in 6, 8, and 12-foot lengths in black or silver.
The Premium Series High-Speed HDMI cable provides high-quality video and audio for HDTVs, Blu-ray players, game consoles and other A/V components. The XCH1/2 Premium series cables come in 6 and 12 foot lengths, in black only.
VIZIO sales of cables have nearly doubled since 2009. With the XCH556, VIZIO is able to offer a high-performance cable and HDMI to the growing market of HD portable devices.
The 6-foot XCH556 will be available this summer.
VIZIO continues to broaden their brand by offering high performance and high value products in new product categories, truly going Beyond TV.
*Sources: Q3 2010 iSuppli and DisplaySearch Reports
**Sources: CEA's Q3 2010 MarketMetrics Data
Web Site: http://www.vizio.com