I reviewed the Cirago CMC3000 a little while ago and one of my complaints was no Netflix, now it's here.. Sort of. While I guess this is good news I still have to say why do I have to pay extra for it? Especially a monthly fee, sure they're offering 50% to purchasers but other media players have the functionality built-in with no extra monthly fee. Oh well, whatever..
CiragoTV Multimedia Centers Now Provide Instant, Easy Access to Content from Hulu, Netflix, YouTube and More, Plus Your Personal Collection of Videos, Photos and Music; For a Limited Time, Get up to 50% Off PlayOn Membership with Cirago Device Purchase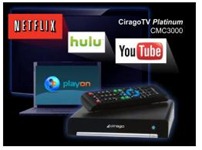 In addition to the CiragoTV Platinum (CMC3000), the CMC1000 and CMC2000 multimedia players are also compatible with the PlayOn platform. Each enables consumers to stream a wide range of content—including high-definition movies and TV programs—from their PC to their TV over a wired or wireless connection.
The CiragoTV Platinum CMC3000 features 500GB or 1TB of built-in storage capacity, plus built-in network-attached storage capability and a built-in PC-less BitTorrent client that enables users to download peer-to-peer movie and music files directly onto the device quietly in the background, without having to leave the PC turned on. Equipped with full 1080p playback capabilities, the CMC3000 also features timeshift technology that allows viewers to pause, record and playback live TV and Internet content with an easy-to-use remote control.
Setting up the system is easy: users first download the PlayOn software package to their PC, then connect the CiragoTV Platinum to their home network via wired or wireless connection and their TV. Users can access their Netflix, Hulu, YouTube, Amazon VOD accounts and more directly on their HD TVs through the remote control, instead of watching those movies and videos on their small computer screens. Additional PlayOn video content channels include Comedy Central, CBS, CNN, PBS, PBS Kids, MTV, VH1, TV.com, ESPN3, MLB, NHL, Spike and others.
For a limited time, customers who purchase the CiragoTV Platinum CMC3000 can purchase a 1 year subscription to PlayOn for only $19.99, 50% off the regular retail price of $39.99.
For more information about the CiragoTV line of multimedia centers, visit www.cirago.com.