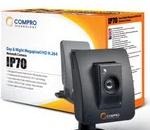 Compro just announced a new IP camera for home and small business use just called the IP70. This camera has got everything built-in like 4x digital zoom, infrared LED array, 802.11N support (with optional accessory), UPnP, two-way audio and a video resolution up to 1280×1024. It even has a microSD slot for storage and you can monitor it remotely via your cell phone. It uses H.264 and MJPEG for streaming and has a 1/3" CMOS megapixel sensor.
Compro Technology, launch VideoMate IP70, the world's first day/night camera with true infrared(IR) lighting and HD megapixel resolution, targeted at the home / SOHO market.
VideoMate IP70 is a high performance H.264 IP camera which delivers high-quality megapixel video and equipped with true day/night function and IR lights. IP70 features a unique cluster of professional class IR LEDs for 24 hours 7 days surveillance under any lighting condition. A light sensor will turn on the array of IR LEDs to illuminate the scene automatically when the lighting condition is too dark for the image sensor and switch off the IR LEDs when the lighting condition turns normal.
Moreover, IP70 bundles a full range of applications to provide an intelligent surveillance total solution – iWizard is a smart installer to turn the complicated network camera installation to a simple and fast process; WebVUer is an intuitive IE based video management software includes all the key features for trouble-free monitoring home surveillance; ComproView is a powerful feature-rich 32 channels professional grade multi-camera video management solution for business surveillance.
In addition, IP70 provides two-way audio support by including build-in microphone and speaker, allowing remote listening of the area via direct voice communication or pre-recorder audio clips; built-in MicroSD slot to support local snapshot storage in MicroSD card; Digital I/O connector for External Sensor and Alarm equipment. For the hard-to-reach places, there is an optional accessory of Compro WL155 USB upgrade module to provide 802.11 b/g/n connectivity. Maybe you have known this category of indoor fixed cameras before, but you absolutely cannot miss to experience the most complete solution and powerful features as this unique IP70 product! However, you now can buy the VideoMate IP70 series from Compro's partner of
Key features
1/3" CMOS Megapixel sensor

Day and night functionality with mechanical IR cut filter switching

Built-in IR lamp with light sensor

Supports real-time H.264, MPEG-4 and MJPEG compression (Triple Codec)

Supports dual streams simultaneously

Support 4x digital zoom

Video resolution is up to 1280 x 1024 pixels

Image frame rate is up to 30 frames under 640×480 or 15 frames under
1280 x 1024

Smart motion detection

Two way audio with built-in MIC and speaker

Support UPnP (universal plug and play)

Support 10/100 802.3/Ethernet

802.11b/g/n WLAN on applicable model (Optional wireless adaptor)

Digital I/O for External Sensor and Alarm (2 In/1 Out)

Supports local storage (MicroSD), Snapshot

Remote monitoring from 3GPP mobile or phones with web browser
(e.g. iPhone/BlackBerry)

Bundled with powerful 32-channel IP video management software — ComproView