Hey, you like Avatar? How about an Avatar themed cell phone cover? Coveroo has just announced a new line of 20 designs based on Avatar for your cell phone, and they're inexpensive at about $20.
-Coveroo, creator of the highest-quality customized covers and cases for mobile phones and consumer electronic devices, is excited to offer consumers designs from the Academy Award®-winning film, "Avatar." "Avatar" enthusiasts can choose from 20 high-quality images from the movie including Corporal Jake Sully, the sixth Toruk Makto, Neytiri te Tskaha Mo'at'it, Direhorses, scenes from the depths of Pandora and much more.
"'Avatar' featured iconic imagery and memorable characters that captivated movie goers around the world"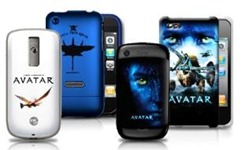 "'Avatar' featured iconic imagery and memorable characters that captivated movie goers around the world," said Coveroo's CEO and co-founder Karl Jacob. "Coveroo brings these characters and images to consumer's phones and other personal electronics using our unique HighColor and Laser Engraving process."
Coveroo will initially offer 20 designs from the film for purchase at Coveroo.com. Fans can pick from a selection of engraved and vibrant HighColor "Avatar" characters and scenes, with prices starting at $19.95.
HOW IT WORKS
To get a Coveroo case, customers choose from more than 5,000 designs or send in their own design. Designs include officially licensed logos from NFL players, MLB, NBA and images from "Star Trek," "Dexter," "24" Marvel comics, "Resident Evil," and much more. Coveroo offers cases for the iPhone 4, iPhone 3, BlackBerry, HTC and other mobile devices as well as personal electronics like the iPod, iPad or Kindle covers. Coveroo will customize the cover or case and ship it within 48 hours. Customers do not have to send their phone to Coveroo.
For iPhones and other devices that don't have removable covers, Coveroo customizes high-quality cases manufactured by reputable brands. For devices with removable covers like Blackberry, Coveroo customizes and replaces the original backs or battery covers so the design becomes an interchangeable accessory and doesn't add any bulk. The line will be available for purchase at www.coveroo.com and Amazon.