Well I mean hot laptop, but then again I guess it is our lap that gets hot right? The DefenderPad supposedly protects you from heat and radiation from your laptop. Price is $99.99 and it's out now and supposedly it will protect you from all kids of stuff like DNA fragmentation, skin irritation and even fertility problems. Personally the easier and cheaper way would be to not use your laptop on your lap, but if you must, check out the DefenderPad…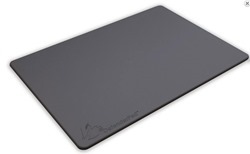 Icaro Innovations, a health technology company, announce an all new DefenderPad™ Laptop Radiation and Heat Shield. The DefenderPad™ is a unique and pioneering solution that blocks nearly 100 percent of all potentially harmful Electromagnetic Radiation (EMR) and greatly reduces heat emitted by laptops, tablets and other modern devices. The updated version features an improved thermal-resistive and softer surface as well as new color choices. Incredibly sleek and functional by design, the DefenderPad™ offers a comfortable and convenient workspace while protecting from various health risks.
"Medical experts like Dr. Sanjay Gupta and Dr. Joseph Mercola have both expressed the importance of limiting your exposure to laptop radiation and heat especially for men and pregnant women," says CEO Daniel T. DeBaun. "Today, adults and particularly children are exposed to long hours of laptop work for our jobs and for school work. Being a father and a businessman, I felt that there was a need to have a solution that virtually eliminates the harmful radiation produced from laptops and other portable devices while providing a useful workspace."

 

Direct exposure to radiation emissions and extreme heat for prolonged periods of time can cause numerous health risks including:
•    Fertility problems in men and women
•    Skin irritation, rashes and burns
•    Toasted Skin Syndrome – (

The DefenderPad™, an FCC Certified Lab Tested solution, makes it an ideal all-in-one replacement for lap desks, lap trays and cooling pads. The DefenderPad™ gently rests with the contour of the lap keeping laptops and tablets stable while working and is the perfect size to use at home or on the go. It's also completely portable and features a light and slim design that easily slips into computer bags, briefcases and backpacks. The DefenderPad™ is available in black, blue and pink with a $99.99 MSRP at SkyMall, Amazon, DefenderPad.com and other retailers.
To read more about the scientific studies behind laptop radiation or about the DefenderPad™ visit www.defenderpad.com/education/publications/.