I like the looks of this case, most rugged and waterproof style cases are big and bulky but the Hydra from Ballistic isn't, it's rather thin actually and really doesn't add much bulk. At least it looks that way from the pictures.. Price is $80 and for that you'll get protection from water, dust, dirt and even drops.. I wish there was one for my HTC One…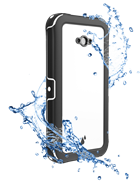 Ballistic, award-winning designers of advanced mobile accessories, announces the release of its newest case, the Hydra waterproof case for iPhone®. This latest addition to the Ballistic family provides water-proof protection for your iPhone while still maintaining maximum aesthetic appeal and pocketability. The Hydra can be submerged in water up to seven feet and for up to thirty minutes, exceeding IP-68 standards. It also comes equipped with easy to access port covers and acoustic waterproof meshes for complete peace of mind. Engineered to be completely dustproof, the case effectively shields adventure-lovers' iPhone's and acts as a buffer between your mobile device and your environment.

The Hydra case is engineered to deliver the dependable rugged, high-impact drop protection that Ballistic is famous for, with guaranteed security against falls up to 8 feet. Meeting Military-Specs and built with Ballistic's high-quality protective materials, including silicone top TPE (Thermoplastic Elastomer) and durable polycarbonate, users can be confident in Hydra's durable, every day performance that will withstand wear and tear overtime. The Air Gap Suspension Springs™ also provide a 1mm gap between the case and device to further cushion the phone.
The Hydra case is intelligently designed to form to your iPhone® without any unnecessary bulk. With strong active latches, the Hydra delivers a trendy design with an easy assembly and removal. It also comes equipped with an optional holster and 180-degree swivel belt clip. At $80, the case provides great value compared to other waterproof cases with a holster.
The Ballistic Hydra is available in a variety of sleek, stylish colors with a high polished area on the back. The Hydra, packaged with the optional holster, will be available for $80.00 at www.goballisticcase.com and a variety of other retail stores nationwide.