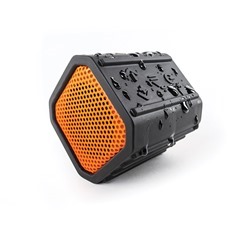 So this new ECOPEBBLE speaker is drop, dust and water-proof and offers up to seven hours of playtime on one charge and it priced reasonably at $59.99. The thing I find most interesting though is that it floats so if you drop it in the water it won't sink like a rock to the bottom. It's small at about 3" x 3" x 3" and weighing only eight ounces but it has a five watt speaker inside for some decent sound I would assume. It also comes with a lanyard and carabineer and the ability to mount it thanks to standard mount hole. Details below..
ECOXGEAR's dedication to ruggedly-styled and portable products manifests itself in the ECOPEBBLE, the company's smallest speaker release to-date. The extremely compact speaker allows adventure enthusiasts of all levels to have a soundtrack during any of their outdoor excursions. ECOPEBBLE is available today for $59.99 at select retailers and www.ECOXGEAR.com.

The ECOPEBBLE name is undoubtedly fitting because like its earthly counterparts, ECOXGEAR's latest release is small and sturdy. The ECOPEBBLE is drop, dust and water-proof. ECOPEBBLE meets IPX7 waterproofing standards, meaning it is free to join in on any lake, ocean or pool-side fun. The innovative design also allows it to float effortlessly alongside a user.

ECOPEBBLE's functionality is further illustrated by its mounting ability, engineered to mount to bicycles, kayaks, tents and other outdoor gear, while also having the ability to hook onto your backpack with an included carabineer. The ECOPEBBLE also features optional suction and bike mounts for added versatility when on-the-go.

"When building out the ECOPEBBLE, our goal was to somehow fit the powerful sound of our larger products into the body of an extremely compact speaker," said CEO of ECOXGEAR, Greg Fadul. "I wasn't sure how we were going to do it, or if we could even do it at all. Certainly, this is an instance I was glad to be wrong. The ECOPEBBLE is everything we hoped it would be, and is sure to be a must-have accessory for adrenaline junkies everywhere!"

The ECOPEBBLE has a long-lasting battery life, capable of over seven hours of play time for all day use prior to needing a charge.

The ECOPEBBLE retails for $59.99, and is available now at www.ecoxgear.com.