Another 128gb flash drive is here, gotta get me one of these..
EDGE Tech Corp (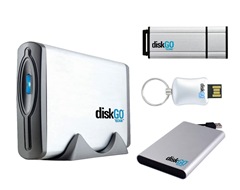 EDGE's mega high-capacity 128GB DiskGO Flash Drive stores approximately 85,000 photos, 128 hours of video, 32,000 MP3s, or 1,280,000 documents. The drive is housed in a rugged aluminum casing that provides protection against wear and tear. It includes CryptArchiver Lite encryption software, a trial version of CryptArchiver which allows users to encrypt up to 25MB of data using 128-bit AES encryption. The full version of CryptArchiver, available at www.edgetechcorp.com/support, encrypts up to 32GB of data. Exceeding the U.S. government standard for encryption strength, this robust version allows users to choose which cipher method they prefer: 256-bit AES or 448-bit Blowfish encryption. Supported by a lifetime warranty and toll-free technical assistance, the 128GB DiskGO Flash Drive is USB powered, and plug and play; there is no need to restart your computer to begin use. For more information on the 128GB flash drive, visit http://www.edgetechcorp.com/usb-flash-drives/diskgo-classics.asp.
EDGE's portable 2.5-inch and 3.5-inch hard drives allow users to easily transfer, save, and carry documents, photos, music, and videos while protecting data from accidental loss. Both hard drives include Dmailer Backup software, which empowers users to store, sync, and back up files locally to the device. Users can choose to encrypt data up to 128-bit AES, as well as schedule backups at specific times or update automatically, creating peace of mind and ease for the user. In addition, redundant backup copies can be saved online to a personal "cloud" — an Internet service location to store information other than your computer. Users can download and share files from their private "cloud" with any computer connected to the Internet. The 2.5-inch portable hard drive contains a unique, built-in USB cord, meaning no extra cord or power supply is necessary. Both hard drives are Windows 2000+ and Mac OS 10.5+ compatible and are backed by a three-year warranty. For more information, visit http://www.edgetechcorp.com/storage/portable-hard-drive.asp.
EDGE is launching a new generation of flash drives to its DiskGO™ line. The new DiskGO series is smaller—measuring 1.5 inches by 0.9 inches—and features a shapely contour. Its small and unique design goes anywhere, and fits easily into inconveniently placed USB ports. This one-piece flash drive employs a sliding apparatus on its back to expose the USB interface that connects to the computer. (http://www.edgetechcorp.com/usb-flash-drives/flash-drive.asp).
EDGE is also offering the new generation of DiskGO flash drives with Dmailer Backup software. (http://www.edgetechcorp.com/usb-flash-drives/backup-flash-drive.asp). All DiskGO Flash Drives are offered with a lifetime warranty.
EDGE Tech Corp president and CEO, Jeff Thompson, said, "These innovative product additions continue to push the envelope for storage options, density, and aesthetics."
ABOUT EDGE TECH CORP
With $2,500 saved from his newspaper route, 14-year-old Jeff Thompson founded EDGE Tech Corp in 1986. EDGE Tech Corp, an ISO 9001:2000-certified company, is a leading supplier of DRAM and flash memory upgrades, portable computing products, storage devices, and other experience-enhancing technology solutions. EDGE products are available through leading U.S. resellers including CDW, Insight, PC Connection, PC Mall, TechDepot (an Office Depot Company), Zones, Walmart.com, and Staples.com, and through distribution at D&H Distributing, Ingram Micro, and Synnex Corporation. EDGE products are also available through its Web site at www.edgetechcorp.com.