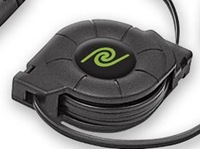 I like this, I may have to get one…  It's a universal and retractable netbook combo charger that let's you charge from either the car of standard wall power outlet, but it also includes a power USB port as well so you can charge something else too.. It's supposed to be available early February, which is now, for $69.99. The cable extends to six feet, it includes seven tips for most netbooks out there and even includes a handy carrying bag for you..
-Emerge Technologies has expanded its line of ReTrak branded ultra-portable chargers to include a universal combo wall/car Netbook charger. The new charger comes with seven interchangeable tips to work with the most popular netbook and mini-computer models. Both the wall and car plug fold neatly into the charger making this the most compact all-in-one solution available. It features a fully retractable cable and one integrated USB port allowing the flexibility to charge an additional device. The Netbook Combo Charger is designed for mobility and provides the perfect solution for travel or home.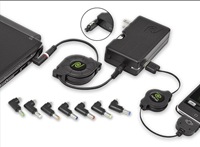 The charger features a sleek and compact design that has a footprint smaller than an iPhone. A carry bag holds the charger, cables, and adapter tips. As with all ReTrak products, the cable expands to the desired length – up to 6 feet – and retracts completely without the clutter of unwanted cable.
Seven interchangeable tips to work with the most popular netbook and mini-computer models
Powers from any standard AC wall outlet or DC car/airplane outlet
USB port allows you to simultaneously charge other mobile devices
Compact and lightweight, the chargers foot-print is smaller than an iPhone
Charger, cables and tips are conveniently stored in a protective carry bag, ideal for travel
The retractable cable extends up to 6 feet and fully retracts for ultimate portability
Pricing and Availability
The 40W Charger (Model ETCHGNETB), $69.99, will be available at major retailers and www.emergeretail.com in early February.
About Emerge Technologies
Emerge Technologies, Inc. offers more than 150 innovative retractable products designed for mobility and people on the go. For more information on Emerge and the ReTrak line please visit www.emergeretail.com.
ReTrak is a registered trademark of Emerge Technologies, Inc., 1431 Greenway Drive Suite 800, Irving, Texas 75038. All other product names and trademarks are property of their respective companies.