Here come the Palm Pre apps!!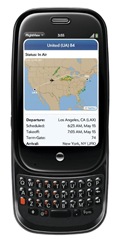 Application Gives Palm Pre Users Control of Travel Plans
BOSTON–(BUSINESS WIRE)–The new Palm® Pre™ phone gives travelers a new way to plan, monitor and make informed decisions about their travel plans, with an application developed for Pre by FlightView, the leader in real-time, accurate and actionable flight information. The FlightView app is available via Pre's on-device beta App Catalog.
Running on the new Palm webOS™ mobile platform, Pre brings together your important information from where it resides – on the phone, at work or on the Web – into one logical view.(1)
"FlightView's development team worked with us to create a best-in-class application just for Pre users," said Pam Deziel, vice president, Developer Marketing, Palm, Inc. "The result delivers what smartphone users want: an easy-to-use, highly functional, reliable application that maximizes their mobile experience."
The FlightView app gives users up-to-the-minute information on where a flight is – tracked by flight number or by departure and arrival cities. Travelers can check flight status before departing for the airport, loved ones can monitor the flight while it's in-air and arriving passengers taxiing to the gate can check connection status and gates.
In addition to flight tracking, functionality unique to Pre includes:
Flight status alerts give travelers immediate notification of changes to the flight – status changes, delays or cancellations. The FlightView app uses Pre notifications to update the user of status changes or delays – whether it is opened or closed – giving users the information they need to act on.
Interoperability with Pre's calendar gives travelers a visual look at travel plans while guarding against double-booking appointments – flight details are viewable while the calendar shows the schedule from departure to arrival.
A notes field for managing all aspects of a trip, such as rental car, hotel and other reservations. Phone numbers, reservations numbers and locations are all in one easy-to-read location.
"More and more people rely on mobile devices to manage all aspects of their lives and we're pleased to be a part of Palm's commitment to making that easier and easier," said Michael Benjamin, CEO of FlightView. "Pre and webOS are designed explicitly for mobile use; with FlightView, users can now manage their travel plans more easily than ever before."
About the Palm Pre Phone
Palm® Pre™ is the first phone running the new Palm webOS™ platform, which brings together your important information from where it resides – on your phone, at your work or on the web – into one logical view.(1) Palm Synergy™, a key feature of webOS, pulls your contacts and calendars from places like Outlook, Google and Facebook, so everything is right there for you when you need it. Palm Pre also lets you flip back and forth between all the things you have open at once—instead of opening and closing them—so you can flow easily between activities without losing your place. Pre's exquisite design includes a touch screen and a physical keyboard that slides out only when needed. The new Palm Pre and webOS are designed to be so in sync with your needs that it feels like Pre is thinking ahead for you. More information about the Palm Pre phone is available at www.palm.com/Pre.
About FlightView
FlightView is the recognized provider of the most accurate, real-time flight information solutions for the aviation and travel industries. FlightView's mobile, Dispatch and FVXML products help aviation and travel professionals achieve superior customer service with actionable real-time information. FlightView's information displays can be seen at airport terminals and on the Web sites of the largest major airports, airline and travel companies. FlightView's software services and solutions are relied upon by the US government, the world's largest airlines, airports, aviation and travel professionals, ground transportation companies and news outlets. Founded in 1981, and headquartered in Boston, Massachusetts, FlightView has more than 20 years of experience in building and supporting mission-critical systems for the FAA and the Volpe Center. To access real-time flight information online, visit FlightView Flight Tracker or FlightView Mobile Flight Tracker.