I have to wonder why companies specifically target certain phones to get special things like the new Garmin navigation system. I can understand making deals and exclusivity and all that, but then again I really can't as wouldn't it be more profitable to have your software on more devices? The new Garmin Nav software works with the Xperia phone of course but it also works with the Sony Smartwatch 2 which I think is cool, I mean having a GPS right on your wrist would be handy.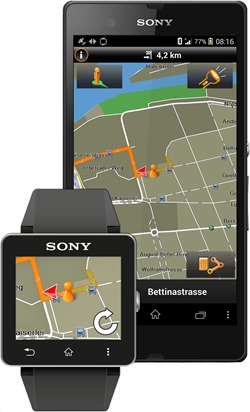 Garmin International Inc., a unit of Garmin Ltd., the global leader in satellite navigation, today announced a new navigation app for Xperia™ smartphones1 with an extension for Sony SmartWatch 2. The Garmin Xperia Edition features signature Garmin navigation features, helping drivers to reduce stress and save time on the road. Premium features include onboard maps, lane guidance, speed warnings, lifetime traffic2, social media integration, and more. The new app seamlessly integrates with Sony SmartWatch 2 to display walking directions, providing users navigation information right on their wrist and without having to hold a phone.

Sony SmartWatch 2 Integration for Pedestrian Directions

Garmin will offer an app extension3 for the SmartWatch 2 in Google Play. The app extension allows the SmartWatch 2 to receive navigation information via Bluetooth® from an Android smartphone running the Garmin Xperia Edition or the NAVIGON Android app. The SmartWatch 2 extension displays a detailed map, making it convenient to navigate on foot. Users can see their current position as well as their route. A zoom function can be controlled with a simple button-press on the watch to take a closer look at the map or route.

Premium Navigation from Garmin

Garmin Xperia Edition features onboard maps stored locally on the smartphone, so users can navigate even in areas where cell phone coverage is spotty, such as when traveling in the backcountry. Garmin Xperia Edition offers multiple options to search for points of interest or addresses, all integrated into one easy-to-use interface. The app combines an onboard database with other sources such as Local Search, Wikipedia, Foursquare, or addresses from the user's phone contacts. With the Reality Scanner function, users can even display nearby points of interest in a live camera view. The app also features a Trip Editor to plan trips with multiple destinations in advance. Additionally, users can share travels with friends and family via Glympse.

On the road, Garmin's advanced features assist drivers like no other navigation app. The Active Lane Guidance feature displays an animated graphic next to the map view that uses brightly colored arrows to indicate the proper lane needed to make a turn. The app automatically warns users when they exceed the speed limit (customizable in the settings) and shows realistic images of junctions and exits. True 3D in-map views obtained from NASA's height and terrain data provide intuitive visual orientation; and Live Weather displays real-time information on weather conditions.

With Traffic Live users get routed around gridlock, and once they arrive at their destination, Clever Parking provides information on nearby garages. Urban Guidance integrates public transportation, complete with detailed itineraries of transit stops. The Last Mile function automatically saves the position of the parked car and switches into pedestrian mode to provide walking directions. The feature also shows a Google StreetView image of the destination for better orientation. Since the car's position is saved, the app can easily guide drivers back to their car at any time.

Garmin HUD Support

Garmin Xperia Edition is compatible with the Garmin HUD. HUD is an innovative new way of viewing navigation information in the car, projecting crisp and bright directions onto a transparent film on the windshield or an attached reflector lens. By providing comprehensive road guidance at a glance and right within the driver's line of sight, HUD can help increase safety and reduce driver distraction.

Pricing and Availability

Both Garmin Xperia Edition and its extension for the SmartWatch 2 are expected to become available in March 2014.

Garmin Xperia Edition will be available free for the first 30 days with access to all premium navigation features. After this trial period, the app provides free access to a map viewer as well as pedestrian navigation. Users can purchase a monthly subscription for $2.95 to gain access to the complete feature set or choose between different one-time in app purchase options.

Garmin Xperia Edition is the latest navigation product from Garmin's consumer automotive segment, the leading worldwide provider of mobile navigation solutions for automobiles, motorcycles and trucks. Garmin's user-friendly personal navigation devices and apps have innovative features that provide time- and fuel-saving benefits to meet the demands of everyday driving.

 

1Compatible with Sony Xperia devices running Android 4.0.4 or higher only.

2Lifetime traffic extends for the useful life of your Garmin traffic receiver or as long as Garmin receives traffic data from its traffic supplier, whichever is shorter. A traffic receiver's "useful life" means the period during which the receiver (a) has the required technical capabilities to utilize current traffic data service and (b) is capable of operating as intended without major repairs. Traffic content not available in all areas.

3The SmartWatch 2 app extension is an extra purchase. Pricing is not available yet.