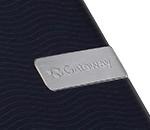 The new LT32 is a netbook with a 11.6" display and HDMI as well with 1080P output. The LT32 netbook series weighs in at about 2.76 lbs and gives you about 5.5 hours run time on a single charge, which isn't bad. They'll be shipping with the AMD Athlon II Neo K125 CPU with 2gigs of ram, and the ATI Radeon HD 4225 graphics chip that comes with 348mb of memory.
The Gateway LT32 netbook easily connects to peripherals such as printers, displays and digital cameras. It has an impressive three USB 2.0 ports for connecting multiple devices simultaneously as well as Gigabit Ethernet and VGA ports. Plus, it features a multi-in-one digital card reader for accepting popular digital media cards.
Staying in touch with the new Gateway LT32 netbooks is easy and fun. All models have Wi-Fi b/g/n for connecting at wireless home networks and hotspots. The integrated HD webcam in the Gateway LT32 netbook line gives consumers an easy way to capture photos and video, record video emails and take part in video-conferencing. Plus, the built-in digital microphone conveys excellent voice quality, keeping background noise levels low and minimizing echoes.
Video and digital media look vibrant on the Gateway LT32's impressive Ultrabright high-definition 11.6" LED-backlit display. The screen's 1366 x 768 resolution boosts the detail and clarity while the screen's 16:9 widescreen aspect ratio is great for enjoying Internet video including Flash video and watching movies. The large screen reduces customers' need to scroll right and left through applications and websites, while also making room for a full-size keyboard for comfortable typing.
Customers can take all the photos, video, music and documents they want on the go with a large 250GB hard disk drive.
Pricing, Availability and Configurations
The new Gateway LT32 will be available at a starting manufacturer's suggested retail price (MSRP) of $449.99.
See www.gateway.com for more information.