A little bit ago I reviewed the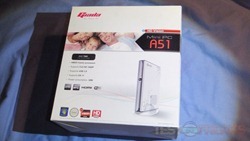 On the heels of Microsoft's global Windows 8 launch last week and just in time for pre-holiday gift wish lists, Giada Technology today confirmed that its entire lineup of mini-PCs are fully Windows 8 compliant. Giada mini-PCs are fully-functional desktop PCs featuring the latest Intel's 3rd generation Core i3/i5/i7 processors (formerly code named Ivy Bridge) which offer up to 20% better software performance over the previous generation of Core processors.  Coupled with Giada's smartly designed ultra-compact chassis, which minimizes material usage, energy consumption, and noise; you have incredibly versatile PCs with endless possibilities for home and office users when coupled with Windows 8 Pro.

Giada's desktop PC's, because of their elegant compact design, are a favorite choice among consumers and businesses that don't want to compromise features and performance for the sake of size.  Thanks to their stylishly small form-factor and near silent operation, Giada compact PCs are ideal for small spaces and quiet environments including dorm rooms and smaller homes, small office/home office, and specialized environments such as hospital rooms, factory automation, and even digital signage applications.

"Giada mini-PCs and Windows 8 are a match made in Heaven," said Eric Chang, Gidad's US General Manager.  "Giada mini-PC incorporate the most cutting-edge computing technology currently available, delivering superb productivity and entertainment possibilities in a very small footprint that is easy on the ear, the eye, and the wallet. With Windows 8 and its new Modern Interface and Microsoft Store for apps, the possibilities really are endless."

Giada Mini PC + Windows 8 Pro Compatible Models:

I53/i50
I53G
I51
I33
I30
F102D
F101
D2305
D2303
D2301
A51
N50
N20

Learn More

Learn more about Giada's entire lineup of mini-PCs at Giadatech.com.