One of the problems with most smartphones these days I battery life and someday I hope we'll be able to go more than one day without a charge but until that time thankfully we've got companies like PowerSkin to help us out! PowerSkin has just released its thin silicone battery case for the iPhone 5 that should extend talk time up to 6.5 hours and music up to 32 hours! The case is very thin and doesn't seem and doesn't seem to add much bulk to the iPhone 5 at all. It has an MSRP of $79.99 and PowerSkin is offering free express shipping until March 7th.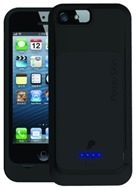 PowerSkin launched its second Apple-certified external charging solution for the iPhone 5 this month with the release of its silicone battery case,

The PowerSkin® for iPhone 5 packs 1500 mAh of power capacity, extending talk time by up to 6.5 hours and music time up to 32 hours. An on/off button located on the back gives users power-on-demand with LED battery lights displaying the amount of charge left.
The PowerSkin® for iPhone 5 is available now at www.power-skin.com or www.power-skin.com/battery-cases/apple/iphone5.php for $79.99, with free express shipping through March 7th, 2013.