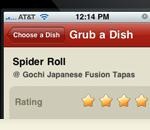 Looking for something good to eat? Then you might want to check out this new app called Grub.it. The app actually doesn't focus on restaurants though, it focuses on the food so it's a bit different than other apps food related apps. It also features reviews of the food as well so you can know what's good and what isn't and where to get your favorite dish…
Today marks the official release of Grub.it (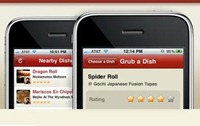 Unlike traditional food review sites, Grub.it focuses on individual dishes instead of the restaurant as a whole. This makes it easy for people to see what is popular at a given establishment or find the best place to eat their favorite food. Grub.it's feature-rich mobile application allows people to 'grub a dish' (review what they are eating) from their iPhone or iPod Touch and share this with their friends on Twitter or on Facebook. The mobile version of Grub.it also allows people to find highly-rated dishes near their current location and keep track of what their friends have been grubbing, allowing them to discover new dishes in an organic, social way.
Grub.it can connect people with local specialties, hidden gems, and exquisite meals in their neighborhoods and beyond. Because users rate individual dishes, the reviews paint a more accurate and detailed picture of the restaurant. Grub.it allows people to see if a restaurant has only one standout dish in an otherwise mediocre menu, or if a return visit might be in order so they can sample more. Not sure what to order at a new establishment? At an old standby and wondering if it's time to try one of their new creations? With Grub.it, people can find out what others are saying and add their opinions from the table.
Grub.it can be a powerful tool for restaurant owners as well as diners. By exposing valuable information about how people respond to each dish, Grub.it can help proprietors build business. Owners can find out why certain menu items are selling better than others at different locations and gain a better understanding of the key demographics and taste preferences of their customers. "Restaurant owners will soon be able to respond to reviews directly from the Grub.it website, among many other features aimed at helping owners improve their businesses," said Pradeep Elankumaran, Director of R&D at Intridea.
The mobile version of Grub.it is currently available for the iPhone and iPod Touch in the App Store. "An Android version of Grub.it is coming soon, as well as a version for Palm webOS," said Brendan Lim, Director of Mobile Development at Intridea. Grub.it for iPhone and iPod Touch was developed using Appcelerator's Titanium Mobile (www.appcelerator.com) platform.

About Intridea
Intridea, Inc. is a high-end web and mobile consultancy that develops high-performance web and mobile applications for startups, government, and commercial clients. Intridea develops solutions for all mobile platforms, with particular emphasis on the iPhone, Google Android, and Palm webOS devices. Solutions currently offered include Present.ly, the mobile-enabled microblogging platform for enterprise companies, and CrowdSound, the enterprise user feedback tool. Intridea is headquartered in Washington, D.C. For more information, please visit www.intridea.com.
Source: Intridea, Inc.
Web Site: http://www.intridea.com/
http://grub.it/
http://www.appcelerator.com/