Hey you Mac people out there, here's one for you.. Western Digital has just announced a one Terabyte My Passport drive, and actually a 750gb version as well. Price are $200 for the 1tb and $180 for the 750gb drive. They are USB drives and they come with 256bit hard ware encryption with password protection..
WD® (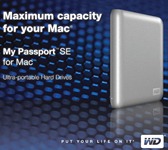 "With over 10 billion songs downloaded from the iTunes® store, the enormous capacity of the new My Passport SE for Mac drives makes them the perfect travel-friendly storage device to hold all the rich media content collected by videographers, creative professionals and digital media enthusiasts with large digital media collections," said Dale Pistilli, vice president of marketing for WD's branded products group.
A product specification sheet and photos of My Passport SE for Mac drives are available on the company's Web site at http://www.westerndigital.com/en/products/Products.asp?DriveID=807.
Price and Availability
WD's My Passport SE for Mac portable drives are available now at WD's online store. MSRP for the My Passport SE for Mac 1 TB portable drive is $199.99 USD and for the 750 GB model is $179.99 USD.
About WD
WD, one of the storage industry's pioneers and long-time leaders, provides products and services for people and organizations that collect, manage and use digital information. The company designs and produces reliable, high-performance hard drives and solid state drives that keep users' data accessible and secure from loss. Its advanced technologies are configured into applications for client and enterprise computing, embedded systems and consumer electronics, as well as its own consumer storage and media products.
WD was founded in 1970. The company's storage products are marketed to leading OEMs, systems manufacturers, selected resellers and retailers under the Western Digital® and WD brand names. Visit the Investor section of the company's Web site (www.westerndigital.com) to access a variety of financial and investor information.
Western Digital, WD, and the WD logo are registered trademarks; My Passport Essential and WD Sync are trademarks of Western Digital Technologies, Inc. in the U.S. and other countries. Other marks may be mentioned herein that belong to other companies. All other brand and product names mentioned herein are the property of their respective companies. One gigabyte (GB) = 1 billion bytes. One terabyte (TB) = one trillion bytes. Total accessible capacity varies depending on operating environment.
(1) An optional cable is available for the few computers that limit bus power.
Web Site: http://www.westerndigital.com/