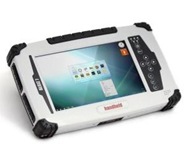 This thing looks tough and rugged as its name suggests… The new Algiz 7 comes complete with 7" screen, 3G and EVDO capability, along with Windows 7, 64gb SSD, 2gig of DDR2 ram and it's powered by an Intel Atom Processor. The Algiz also has Bluetooth, WLAN and even GPS built- in along with a 2MP camera. I don't see a price in the release but they're going to be available come March…
Handheld introduced today the all new Algiz 7 rugged tablet PC. The Algiz 7 is an ultra rugged mobile 7-inch widescreen tablet that runs Microsoft Windows 7 Professional operating system and features an Intel Atom 1.6 GHz processor with 64 GB Solid State hard drive and 2 GB of DDR2 RAM.
The Algiz 7 comes standard with Bluetooth, WLAN and GPS as well as a built-in 2-megapixel camera with LED light. Optional 3G cellular capabilities provide high-speed GSM/UMTS/EVDO data transmission. The Algiz 7 is ready for Gobi(TM) 2000 technology and has built in antennas – which means that you'll be able to work on your choice of wireless frequency anywhere in the world.
Handhelds unique MaxView(TM) screen technology is the latest in outdoor view ability ensuring the user the best outdoor screen visibility available on the market. The hot-swappable 2400 mAh dual battery pack lets you change batteries without shutting down thus giving you the run time needed from your tablet.
"Our partners have come to expect cutting-edge technology from Handheld", said Jerker Hellstrom, CEO and chairman of the Handheld Group. "With the development of the Algiz 7 our target was set high and we are very pleased to conclude that not only have we achieved this target but actually surpassed it. Our new product meets all the market requirements, lightweight, powerful, massive safe storage, ultra rugged, best in class screen, all features fully integrated and hot swappable batteries. The fact that we are able to offer this at a very compelling price makes it all the more attainable. The Algiz 7 hits that sweet spot and will undoubtedly be just what the field users have needed."
"Not all our customers will be familiar with the benefits of Gobi 2000 technology", continued Hellstrom. "It supports both 3G and EVDO. This is truly a technology that allows our users to go anywhere in the world and use the Algiz 7 with high speed data networks."
The Algiz 7 is IP65 rated and meets stringent MIL-STD-810G military standards for withstanding humidity, vibration, drops and extreme temperatures. Weighing in at just under 1.1 kilos makes it one of the lightest 7″ tablets on the market.
The Algiz 7 will be shown at trade shows all over the world in the coming months and orders can be placed immediately. First customer shipping will begin in March.
About Handheld:
The Handheld Group AB is a worldwide supplier of rugged mobile computers and PDAs. Handheld and its partners deliver complete mobility solutions to businesses in industries such as logistics, forestry, public transportation, construction, military, and security. The Handheld Group has local offices in Finland, the Netherlands, Italy and the USA. For more information, please see http://www.handheldgroup.com