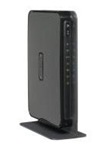 The MBRN3300E 3G Wireless router is a combined effort by Netgear and Ericsson which features 802.11N Wi-Fi,  QoS for reliable video, audio and gaming, broadband usage meter, Push-N-Connect Wi-FI setup and even an optional car power charger and battery pack for true mobility. It's available now and of course there's no price to be found…
NETGEAR , Inc., a worldwide provider of technologically innovative, branded networking solutions, today announced a technology collaboration with 3G infrastructure leader Ericsson resulting in the launch of the new NETGEAR MBRN3300E 3G Mobile Broadband Router with internal 3G radio, available now. Ericsson contributes its leadership in 3G mobile networks, while NETGEAR contributes world-class expertise in routing, firewalls, wireless and IP networks. NETGEAR will showcase the MBRN3300E in the Ericsson pavilion, Hall 6, during the GSMA Mobile World Congress trade show in Barcelona February 15-18.
"We are thrilled to cooperate with Ericsson, the global leader in 3G mobile broadband network technology," said Michael Clegg, vice president and general manager of the NETGEAR Service Provider Business Unit. "This collaboration furthers our position with mobile operators, and the resulting mobile platform can be migrated to higher speeds and enabled with added features going forward. It is a clear win-win partnership."
Mats Norin, vice president of Mobile Broadband Modules at Ericsson, added, "Mobile broadband connectivity over HSPA in routers opens up new opportunities in yet-untapped home, SOHO and semi-nomadic user scenarios. We are excited to deliver mobile broadband connectivity to a new segment, home network routers for NETGEAR."
Now available, the MBRN3300E Mobile Broadband Router combines a 3G WAN with 802.11n wireless and Ethernet LAN. As evidence of its industry-leading features, this Mobile Router sports 270 Mbps on the wireless LAN side and a full-featured firewall. Utilizing the Ericsson 3G mobile broadband technology, the MBRN3300E offers cost-efficient Internet access for home and business users and is ideal for:
  --  locations that lack wired infrastructure;
  --  as an alternative to DOCSIS®, DSL or Fiber to the Home (FTTH); and
  --  Internet access from trains, buses, automobiles, RVs or boats.

  Proven Compatibility
Mobile network connections for routers are becoming increasing popular in many countries as a backup for or alternative to wired broadband. 3G mobile networks already offer speeds close to, or even exceeding, wired options. Mobile networks also offer service in locations where there are no high-speed wired Internet connections available or alternatives are far too expensive. Ericsson and NETGEAR together are expanding the market for mobile networks into untapped applications and are helping mobile operators generate higher revenues as their customers realize more reasons to use 3G networks for data and downloadable mobile entertainment.
A Unique Combination of Features
This new NETGEAR mobile broadband router offers many unique features not previously able to be delivered in a single device, including:
  --  Live Parental Controls and content filtering
  --  Stateful Packet Inspection (SPI), VPN pass-through and Denial of
      Service protection
  --  Guest networks (multiple SSID) capability to enable customers to set
      up multiple wireless networks within a home or small business. (This
      is especially useful for setting up a dedicated network for guests to
      give them access to the Internet but not other resources and files on
      the network.)
  --  Automatic Quality of Service (QoS) for reliable video, voice and
      gaming
  --  A broadband usage meter to ensure accurate measurement of download
      Internet traffic with customized alerts when close to the monthly
      bandwidth threshold to help avoid excess usage charges
  --  Push 'N' Connect with industry standard Wi-Fi® Protected Setup (WPS)
      for securely connecting devices at the touch of a button
  --  On/off switches for power and 3G / Wi-Fi to help customers conserve
      energy
  --  Optional car power charger and a battery pack for complete mobile
      usage
Photos and other product information can be found here (http://www.netgear.com/Products/RoutersandGateways/3GMobileBroadband/MBRN3300 .aspx).
About NETGEAR, Inc.
NETGEAR (NASDAQGM: NTGR) designs innovative, branded technology solutions that address the specific networking, storage, and security needs of Small- to Medium-sized Businesses (SMBs) and home users. The company offers an end-to-end networking product portfolio to enable users to share Internet access, peripherals, files, multimedia content, and applications among multiple computers and other Internet-enabled devices. Products are built on a variety of proven technologies such as wireless, Ethernet and powerline, with a focus on reliability and ease-of-use. NETGEAR products are sold in over 28,000 retail locations around the globe, and via more than 39,000 value-added resellers. The company's headquarters are in San Jose, Calif., with additional offices in 25 countries. NETGEAR is an ENERGY STAR® partner. More information is available at http://www.netgear.com/ or by calling (408) 907-8000. Connect with NETGEAR at http://twitter.com/NETGEAR and http://www.facebook.com/netgear.