Looks like HP is at it again with new designs of their Pavilion notebooks. With updates across the HP Pavilion line, the new notebooks draw inspiration from culture, art and fashion, and build on HP's MUSE (materials, usability, sensory appeal and experience) design philosophy. Introduced last May, MUSE includes a mix of materials such as metals, alloys and plastics; easy-to-use features for improved usability; a blend of artisan elements for sensory appeal; and intuitive features for simple experiences. The new notebooks also can be personalized with a choice of 17 exclusive wallpapers designed by six artists from around the world. These wallpapers and more are now available to download from HP's Facebook page.
HP Pavilion dv6 and dv7
At the forefront of the redesigned lineup, the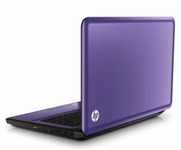 Available in a dark umber metal finish, the Pavilion dv6 and dv7 use design elements from the award-winning ENVY line such as sleek metal finishes and HP's exclusive Beats Audio. They also incorporate HP CoolSense Technology, USB 3.0 and on-board quad speakers to create the best possible personal computing experience.
Beats Audio, which was created by Beats by Dr. Dre co-founders Dr. Dre and Jimmy Iovine, restores the emotion that is missing from digital music. Working in collaboration with HP, Iovine and Dr. Dre tuned and applied the signature Beats sound profile across HP's premium notebook and desktop lines to provide the optimal sound experience – the way the artist intended it – when playing music or audio through headphones or external speakers.
The Pavilion dv6 and dv7 also include newly optimized on-board quad speakers, and the dv7 features a subwoofer for additional depth and power.
HP CoolSense Technology combines advanced hardware and intelligent cooling software for a notebook that feels noticeably cooler. The technology automatically adjusts cooling levels according to a customer's personal preferences.
The Pavilion dv6 and dv7 feature 15.6- and 17.3-inch diagonal high-definition (HD) BrightView displays,(1) respectively, and are available with an optional integrated Blu-ray disc player(2) and a built-in HP TrueVision HD Webcam(1) that offers crisp, clear video chatting even in low-light conditions.
Available with second-generation Intel® Core™ i5 or i7 processors and optional AMD Radeon™ 6000M graphics, the Pavilion dv6 and dv7 provide superb performance. The notebooks include USB 3.0 for faster sharing and transferring of files and offer ample multimedia storage with up to 1 terabyte (TB) of storage for the Pavilion dv6 and up to 2 TB for the Pavilion dv7.(3)
To protect personal information and simplify password management, the Pavilion dv6 and dv7 include HP SimplePass, which provides enhanced security for access to online accounts and passwords with the swipe of a finger. In addition, all HP Pavilion dv-series notebooks feature HP ProtectSmart, which locks the hard drive to protect photos, music and memories in case the notebook is accidentally dropped.
HP Pavilion g-series
Striking a balance between design, performance and affordability, the new HP Pavilion g-series is ideal for the everyday user, offering reliable performance, attractive designs and essential features at a great value.
Available in a variety of colors and patterns to fit any style or personality, the HP Pavilion g4, g6 and g7 offer full connectivity for surfing the internet and connecting with friends.(4) The notebooks also include a HD BrightView display(1) with Altec Lansing speakers and SRS Premium Audio for enjoying movies and music.
HP consumer notebooks are backed by HP Total Care, the company's award-winning support program for both in- and out-of-warranty products. HP Total Care includes 24/7 access to phone support agents, online support options like the HP consumer support forum and more.
Pricing and availability(5)
The HP Pavilion dv6 is expected to be available in the spring in the United States, with pricing to be determined.
The HP Pavilion dv7 is expected to be available in the spring in the United States, with pricing to be determined.
The HP Pavilion g4, g6 and g7 are expected to be available on March 13 in the United States, starting at $499.99, $449.99 and $599.99, respectively.
Additional information is available at www.hp.com/personal.
About HP
HP creates new possibilities for technology to have a meaningful impact on people, businesses, governments and society. The world's largest technology company, HP brings together a portfolio that spans printing, personal computing, software, services and IT infrastructure to solve customer problems. More information about HP is available at http://www.hp.com.
(1)
HD content is required to view HD images.
(2)
As Blu-ray is a new format containing new technologies, certain disc, digital connection, compatibility and/or performance issues may arise, and do not constitute defects in the product. Flawless playback on all systems is not guaranteed. In order for some Blu-ray titles to play, they may require a DVI or HDMI digital connection and your display may require HDCP support. This Blu-ray drive does not support writing to ultra-high speed CDRW media (16X to 32X advertised performance). HD-DVD movies cannot be played on this PC.
(3)
For hard drives, 1 GB = 1 billion bytes and 1 TB = 1 trillion bytes. Actual formatted capacity is less. Up to 20 GB of hard drive is reserved for system recovery software.
(4)
Wireless access point and internet service required and not included. Availability of public wireless access points limited.
(5)
Estimated U.S. street prices. Actual prices may vary.