12 generations of outdoor cameras, looks like they've been perfecting them for a while. Pentax has introduced two new models of its Optio line of rugged outdoor cameras featuring outstanding waterproof, dustproof, shockproof, coldproof, and crushproof capability, these extra-rugged models take adventure photography to new heights (and depths).
The new and improved features on the PENTAX Optio WG-1 include: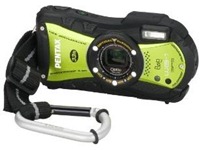 • 14 megapixel sensor.
• Waterproof to 33 feet.
• Shockproof design to withstand falls up to five feet.
• New crushproof construction* withstands up to 220 pounds (100kgf kilogram-force).
• Enhanced Digital Microscope mode offers five macro LEDs for excellent macro lighting plus a detachable macro stand for steadier capture.
• Face Detection technology including a new Self-Portrait Assist mode perfect for facebooking and other social networking activities.
• Available with and without GPS, the WG-1 GPS functionality* tracks and records positional data recording with images making it easy for users to check the shooting locations of captured images.
*Measured under PENTAX-original testing standards.** GPS included only on the select WG-1 GPS model.
Other important WG-1 features include:
• Coldproof to sub-freezing temps of minus 10 degrees C (14 degrees F).
• Dustproof protection.
• Wide angle 5X internal optical zoom lens (28-140mm equivalent).
• Video capture in widescreen 720p HD at 30 frames per second.
• A woven web fabric strap with a carabiner to attach the camera to a backpack and other outdoor gear.
• Eye-Fi wireless SD memory card connectivity.
Priced at $349.95 USD, Optio WG-1 will be available in a choice of Black or Purple, while the Optio WG-1 GPS will be priced at $399.95 USD and available in Black or Yellow Green. Both cameras will ship in April 2011.
PENTAX Imaging Company has announced that the popular K-5 digital SLR will be available soon in Limited Edition Silver available in the U.S. in limited quantities. Along with the silver K-5, PENTAX announced three popular PENTAX DA Limited Edition Silver lens models will ship in the near future including:
• smc PENTAX-DA 21mm F3.2 AL Limited Silver
• smc PENTAX-DA 40mm F2.8 Limited Silver
• smc PENTAX-DA 70mm F2.4 Limited Silver
PENTAX also announced also announced a second lens designed for use with the PENTAX 645D medium format digital camera. Complete information about all of the new products is available here: http://www.pentaximaging.com/about-us.aspx?p=press
Most products are available for preorder on: www.pentaxwebstore.com