The Huawei Mercury is the latest addition to Cricket and it's a decent phone really. The Mercury has got a 4" screen, a 1.4ghz CPU, 8mp rear camera, VGA front camera, wi-fi, Stereo Bluetooth, a mobile hotspot and of course it's running Android. Price is $249.99 and that's not too bad for the specs the Mercury has and supposedly you can get it right now but I visited the Cricket site and didn't see it there.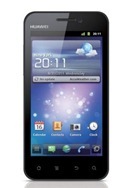 Cricket Communications, Inc., a leading provider of innovative and value-driven wireless services and a wholly-owned subsidiary of Leap Wireless International, Inc. today announced the exclusive United States availability of the Huawei Mercury, Cricket's fastest and most powerful smartphone, yet.  This highly anticipated device is available now for$249.99 (MSRP) at Cricket branded retail stores, dealers and at www.mycricket.com.

Huawei Mercury Features

1.4Ghz Processor
4" FWVGA Touchscreen
Email application for both consumer and business email
8.0 MP AF HD rear camera/camcorder
VGA Front Camera
2GB Internal Memory
Real Web Browsing at 3G speeds
Wi-Fi Capable
Stereo Bluetooth
Mobile Hotspot (i.e. Tethering); supports up to 5 devices
Support for Google Mobile™ Services – Gmail™, Google Maps™ with 3D maps and free turn-by-turn navigation, Google Earth™, Movie Studio, YouTube, access to more than 300,000 apps, millions of eBooks, thousands of movies to rent from Android Market

The Huawei Mercury joins Cricket's growing smartphone lineup and is available on Cricket's $55 per month smartphone service plan that includes unlimited talk and long distance, caller ID, voicemail, call waiting, 3-way calling, call forwarding, unlimited text, picture and video messaging, 3G mobile data and email.