For today's review we will be looking at the Verbatim's Mini Wireless Mini Wireless SlimBoard which is a slim keyboard and mouse bundle. This low profile keyboard/mouse uses 2.4 Ghz wireless technology along with a Nano wireless receiver. It is a low-priced option for those needing something portable or in a small form factor for their computing requirements.

The Verbatim Mini Wireless SlimBoard comes packaged in a black cardboard box with a clear window in the center showing off the keyboard. On the back are additional images of the keyboard and mouse along with specific features of the Mini Wireless SlimBoard; in addition there is a listing of technical specs. Inside the package we find the keyboard, mouse, Nano receiver, four AAA batteries, Software CD, and Quick Start Guide.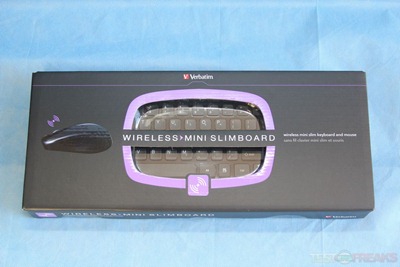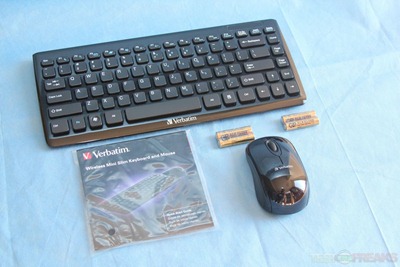 The Verbatim Mini Wireless SlimBoard comes in all black and features a piano plastic finish on both the keyboard and mouse. Verbatim designed the Mini Wireless SlimBoard to work with Windows 7, Vista and Windows XP.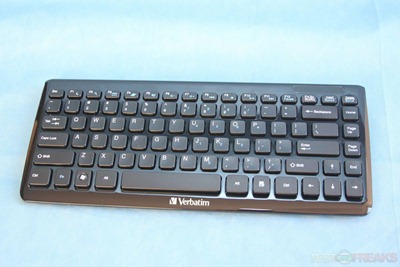 The keyboard is lightweight and has a distinctly plastic feel to it. It is slightly longer than the Apple Bluetooth keyboard and weighs less.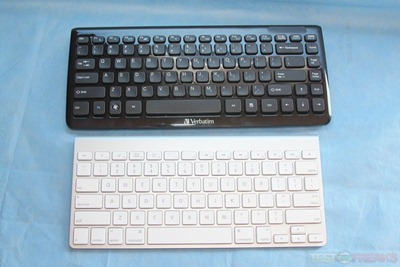 The keyboard arrangement uses a laptop arrangement instead of a desktop format. The function keys at the top also double for media controls and to launch e-mail or the web browser. Below the space bar is the Verbatim logo.
Underneath the keyboard we find an opening for two AA batteries and a connect button for syncing the keyboard and mouse to one another. For those who like their keyboard on an incline we do not find any standoffs or feet to change the typing angle. Rubber grips on the bottom help keep the keyboard from sliding around.
The mouse is all black as well with a piano black finish on its top surface; the Verbatim logo seen on the top center of the mouse. It is a two button mouse with a scroll click wheel in the center. This mouse is more laptop than desktop in terms of form factor.
Underneath we see silicone track pads along with a battery door cover, connect and power buttons.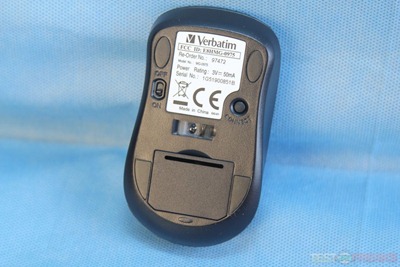 Opening the battery door reveals the Nano receiver which is stored here when the mouse and keyboard are being transported or not in use for long periods of time. The mouse also takes two AAA batteries.
Specifications:

The top row function keys double as standby, search, e-mail, Internet home page, mute, volume down, volume up, previous track, stop, play/pause, and next track.
As someone who uses the Apple wireless keyboard I feel comfortable with using slim keyboards although I still prefer my Das Keyboard. Typing on the Verbatim Mini Wireless SlimBoard felt like I was working on a netbook keyboard.
The keys felt plasticky which I personally did not care for. However typing on it was not uncomfortable, as the keys were very responsive and its features work as advertised. Typing on the Slimboard is a quiet experience which is appreciated by those in the vicinity.
The wireless mouse was functional and not much different than the slew of laptop mice available on the market. Since I have big hands I prefer bigger mice but the Verbatim one did its job adequately.
The piano black finish like always looks great until someone gets their fingerprints on it, then its smudge city.
Conclusion:

The Verbatim Mini Wireless SlimBoard is an affordable keyboard mouse bundle for those who lack desktop space or require something portable. It has a nice appearance with its piano black finish although does feel light and plasticky.
The keyboard has a laptop style arrangement for those who prefer that type of keyboard layout. Personally I do not care for type of setup. However, for its price ($30 on Amazon) it is probably worthwhile for those who are not that particular about their keyboards.
Pros:
+Keys are responsive
+Low-profile
+Multimedia buttons on keyboard
+Bargain price
Cons:
-Unable to adjust angle
-No LEDs on keyboard for Num Lock, Caps Lock or Scroll Lock LEDs
-No power button on keyboard
-Fingerprint magnet
| | |
| --- | --- |
| Grades: |   |
| Overall | |
| Design | |
| Performance | |
To learn more about our review policy please visit this page HERE.